Beloved Pastor Remembered
A wake and home going for Mary Overstreet Smith
9/6/2016, 5:06 p.m.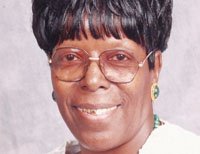 Beloved Portland Pastor Mary Overstreet-Smith, known for her decades of selfless work as co-founder and pastor of the Power House Temple Church on North Williams Avenue, died Aug. 30 after a long illness. She was 78.
Friends and family are invited to a Celebration of Life wake in her honor on Friday, Sept. 9 at 7 p.m. at Maranatha Church in northeast Portland. The public is also invited to her going home funeral service that will follow the next day, Saturday, Sept. 10 at 11 a.m., also at Maranatha Church, according to family and friends.
Overstreet-Smith was always known for having an open door for people in the community who needed food, clothing and other help. After Hurricane Katrina, for example, she sold her "wintertime" home in Glendale, Ariz., to raise money to bring more than 40 people to Portland left homeless by flooding in Louisiana and Texas.
She helped start the the North by Northeast Community Health Center, one of Portland's first free health clinics, along with an autism center.
Here's a statement sent out by the North by Northeast Clinic:
"Our hearts are heavy and full as we share the sad news that our beloved co-founder, Pastor Mary Overstreet Smith, passed away after a long illness. While the loss is still sinking in, we are filled with memories of the wisdom, love, encouragement and laughter she shared with us over the past ten years. Nine months after she and Dr. Jill Ginsberg met in November 2005, the doors of North by Northeast Community Health Center were opened to our first patients. Pastor Mary loved to say that this meeting was "pre-destined," and she was so proud of how far we have come. We know Pastor Mary touched countless lives here in Portland and beyond. So many people lost a great friend and champion."
Mary Overstreet-Smith was born Nov. 2, 1937 in Gulfport, Miss. She moved to Portland in February 1965. She was the mother of six children and was preceded in death by a son, Michael Forbes.