Former School Principal Remembered
Lemil Ivory Speed
9/6/2016, 5:01 p.m.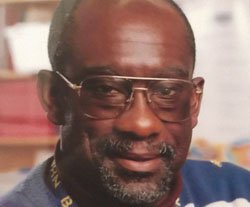 Lemil Ivory Speed, former principal of Woodlawn Elementary and vice principal at Grant High School, passed away Aug. 5, 2016 in Chandler, Ariz.
He was born Oct. 8, 1945 in Lakeland, Fla., the only child of Thirsa Lee Speed. After graduating from high school, he enlisted in the Air Force and served as a military police officer. He left the military after eight years and moved to Eugene where he worked as an assistant manager for a McDonald's restaurant where he met many life-long friends.
During his stay in Eugene he changed careers by working for First Interstate Bank (now Wells Fargo Bank) in various departments, and eventually moved to the Portland area. After 16 years with the bank, he was laid off. In 1989 he enrolled in the Portland Teachers Program through Portland Community College and Portland State University. Upon graduating with a Masters of Education degree, he was hired as a fourth grade teacher at John Ball Elementary School (now Rosa Parks Elementary School). He taught in the classroom for a few years, but was encouraged to move into school administration. After several years as vice principal at Grant High School and later principal at Woodlawn Elementary School, he retired in 2009.
He met the former Lynette Harris-Brown in September 1988. After a 48-day whirlwind-dating spree, they were married Nov. 12, 1988. They had a blended family of four daughters and one son. He was also a deacon and life group leader at Mt. Olivet Baptist Church in Portland for many years.
Last September, the Speeds relocated to Arizona where they created new memories in the "Land of the Sun" and became members of Christ Life Church.
Speed is survived by his wife, Lynette; daughters Yolanda Pritchett (Christopher) of Greensboro, N.C.; Tiffany Brown of Maricopa, Ariz.; Angela Brown of Phoenix, Ariz.; Julia Bryant and son David Speed (McKenzie), both of Hillsboro; 14 grandchildren and three great grandsons. He was very endeared by his brothers-in-laws Derrick Harris (Benita), Dean Harris (Antonia) and mother-in-law, Ernestine Harris. Three special nieces also survive him.
A celebration of Lemil Ivory Speed's life will be held Saturday, Sept. 10 at 10 a.m. at Mt. Olivet Baptist Church, 8501 N. Chautauqua Blvd.