Low Income Fares Wanted
Transit advocates push for reduced costs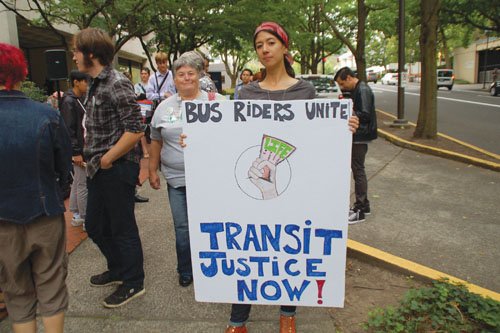 Advocates for the poor and disadvantaged are asking TriMet to adopt a reduced fare for low-income riders as part of a larger strategy to support sustainable growth and livability in the Portland area.
The message was delivered to the agency in the form of a protest last Wednesday by Bus Riders Unite from the nonprofit organization Organizing People/Activating Leaders (OPAL).
"This is about the people in the community that make incomes below 200 percent of the federal poverty line which is a really small amount of money," says Shawn Fleek, OPAL community engagement coordinator. "People in Portland are feeling the squeeze on housing and the cost of transportation, which is the second largest cost that anybody pays in a household."
The proposal is patterned after Seattle's LIFT program and San Francisco's Lifeline pass, where a 200 percent poverty line threshold makes San Francisco's discounted pass cost $35 and Seattle's at $54, nearly half of the normal $99 price.
For those living within 100 percent of the federal poverty line, the advocates suggests a fare matching TriMet's Honored Citizen pass for senior citizens and disabled riders, which is $28 per month.
To pay for the new rider benefits and services, the advocates suggest TriMet increase tax and advertising revenues.
TriMet currently makes around $4 million from company advertisements on transit vehicles, train stations and bus shelters, nearly $13 million less than what San Francisco made from advertising, the advocates say.
"We want to make sure that TriMet receives the message that we are not going away and we will continue to remind them of how important an issue this is," says OPAL member David Bouchard. "We will always be the watchdogs making sure they're doing right by us, the riders. We have the right to be heard."