Sasquatch puts Focus on Safe Crossings
9/6/2016, 4:42 p.m.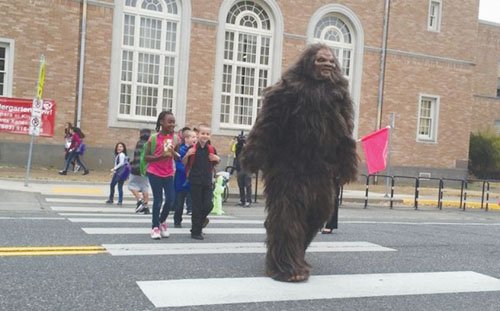 The first week back to school came with a crosswalk safety campaign to increase awareness of traffic laws, promote safe and responsible travel, and ultimately reduce the number of people hit or killed by cars, trucks and other vehicles.
The Portland Bureau of Transportation and Portland Police Bureau, for example, held a crosswalk safety education and enforcement action last week at Cesar Chavez School at North Willis Boulevard and Courtenay Avenue.
The star attraction was Sasquatch, the mythical Bigfoot character from "Oregonians Crossing" a statewide traffic safety campaign.
Under Oregon law, every intersection is a legal crosswalk whether it is marked or unmarked. People driving must stop and stay stopped for people walking when the pedestrian is in the travel lane or the adjacent lane.
Near schools, people driving need to be especially mindful and watch out for parents and children walking and biking.
As students head back to school, it's particularly important to obey traffic laws and drive safely in school zones. Drivers should also be aware that Portland police officers will be at every school during the first few weeks of the school year to enforce school speed zones and other traffic laws.