Youth Mentoring from the Start
Coalition of Black Men has made a difference for 28 years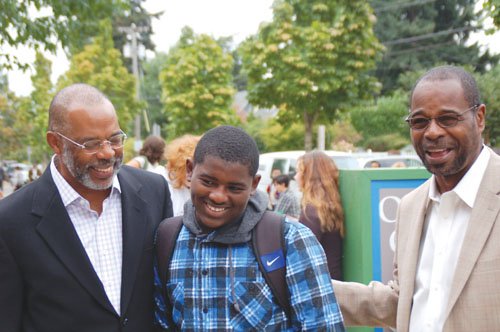 Portland's Coalition of Black Men has long sought to change both the perception young black males give and the quality of life they have by connecting with them early on in life through mentoring and positive influence.
The group was formed 28 years ago at time when media coverage in Portland was dominated by negative depictions of young black men and the developing gang problem in the city, according to Bruce Watts, the group's former executive director and current member.
"The Coalition was created to provide a positive image of African American men in the city," Watts says.
Having worked with the Coalition since it was founded in 1988, Watts sees the beneficial impact the mentoring program has achieved.
"We have made a difference and we can tell," Watts says of the many kids of color who have benefited. "We try to expose them to opportunities in life that they may not realize are there."
Watts said a recent partnership with Portland Public Schools, ushered in by former superintendent Carole Smith, has made the coalition's work even more impactful.
Smith wasn't pleased with the "glaring discrepancy" Portland schools had in its discipline of African American male students, Watts says. Youth of color were experiencing suspensions and expulsions at a much higher rate than their white classmates, which led to the superintendent calling for at least a 50 percent decrease in the number of incidents causing this disciplinary discrepancy.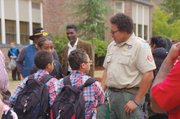 Many of the issues known for landing African American students in helms of the district's punitive disciplinary polices were falling under the guise of "defiant or disruptive behavior" – a description that is more subjective than definitive, Watts says.
To overcome this disparity, school leaders worked harder to ensure that schools with the highest level of minority student punishment were making better use of existing programs directed at helping black kids, while also making clearer guidelines and incentives for better behavior, and using conflict resolution instead of actual punishment. That's also when the district reached out to the Coalition of Black Men.
The Coalition has stepped up its efforts by mentoring a large group of kids at both Ockley Green and Boise-Eliot Middle Schools, two high-minority enrollment schools serving north and northeast Portland. From the first bell of the current school year to the last, the Coalition, for example, has worked to show the influential impact a responsible, successful and nicely dressed black adult mentor can have on the insights of not only black youth, but all youth in general.
Since the beginning of their collaboration with PPS in 2015, the Coalition of Black Men has mentored 80 male youth, offering guidance on how not to let stereotyped, violent and inappropriate behavior define them. The outreach included field trips to Intel, tours of Legacy Emmanuel Medical Center and meeting retired NFL running back Marshawn Lynch.
The efforts have not gone unnoticed.
"A lot of the responses we're getting from school district administrators and teachers are that the boys are more present, more engaged, more involved and respectful," says Watts.