Housing Miracles
Recovery-based groups open new apartment
9/13/2016, 4:42 p.m.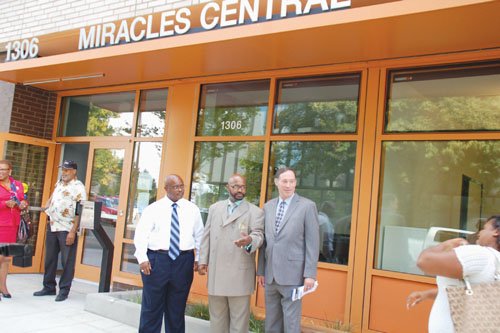 A Portland non-profit serving people impacted by homelessness, poverty and addictions, joined a drug and alcohol recovery-based organization focused on Portland's African-American community to open a new, 47-unit housing building in the Lloyd District.
The grand opening celebration on Thursday by Central City Concern and the Miracles Club drew a large group of supporters, including speakers J.W. Matt Hennessee of Vancouver Avenue First Baptist Church and Portland City Commissioner Dan Saltzman.
Miracles Central, 1306 N.E. Second Ave., is a new six-story, $12.9 million apartment building that will include on-site supportive services for residents including recovery support. It adds to the existing Miracles Club housing stock which exists above the Miracles Club at 4200 N.E. Martin Luther King Jr. Blvd.
Ed Blackburn, Central City Concern executive director, said the expansion of housing services focused on local residents was a great example of community partners working together to fill a need.
"We want to serve the people who live in the neighborhoods where we build. Miracles Central has diverse base of residents who might not otherwise have the opportunity to live affordably in the Lloyd District," he said.
Miracles Central has 47 units: 21 studios, 21 one-bedroom and 4 two-bedroom. It is arranged in an L-shape plan, simultaneously providing a street presence along both streets and privacy for residents behind. The building shape allows all units to take advantage of daylight, and individual balconies provide outdoor living designed for a sense personal space.
The courtyard is a private outdoor space for residents to socialize. The large community room and other shared spaces create interaction opportunities among residents and promote a sense of community.
Major contributors of Miracles Central include the Portland Housing Bureau, Oregon Housing and Community Services, JP Morgan Chase, The Multi-Cultural Development Group and the National Equity Fund.

The architect was Carlton Hart Architecture and general contractor was LMC Construction Co.