Inspired by Tennis Greats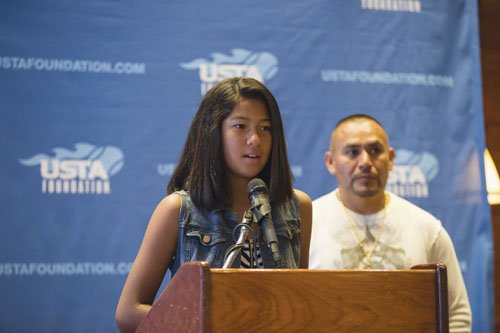 A young Portland student and tennis player has won a national essay contest in memory of the late black tennis greats Arthur Ashe and Althea Gibson.
Ashley Factor, 11, a sixth grader at Cesar Chavez School in north Portland, earned a weekend trip to New York City last month where she was bestowed the top prize with nine other contestants as part of an event sponsored by the National Junior Tennis and Learning group and the U. S. Tennis Association Foundation.
Factor is also a scholar athlete at Portland Tennis and Education. She dreams of eventually attending the University of Portland and becoming a professional tennis player and artist.
The winning essays were from more than 2,800 submissions. Each was required to write a 350 words or less essay answering the question "How have our skills in tennis impacted the development of your character and how you address your personal challenges on and off the court?"

The contest was more focused on legendary tennis player Althea Gibson and how her strength and courage is inspiring. Gibson was the first African American U.S. Championships and Grand Slam winner.