Vote yes on 98 to make school relevant
A measure to help young men and women with their careers
George Weatheroy | 9/28/2016, 11:03 a.m.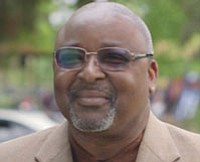 As Portland experiences an economic boom, large sections of our city are on the brink of a youth gang crisis—which is directly linked to a lack of options for employment, housing and stability.
Yet teachers, principals and law enforcement professionals like me are aware of what it takes to help kids stay on or get on a path toward a productive life and good-paying employment. One of the best is investing in education in the form of hands-on learning opportunities. In particular, I'm talking about vocational and career technical classes.
And there's going to be something you can do that will start bringing about this important change: Vote "yes" this November on a ballot measure that will make these vocational and career technical classes a reality for more of our students.
Everyone in the Portland community should support Measure 98. It gives badly needed resources to schools so they can expand and create vocational and career instruction. These opportunities keep them off the streets, and provide skills and work ethic so they'll succeed.
Before retiring from the Portland Police Bureau and since working in security for Portland Public Schools, I've seen this issue from all sides.
What I know is that students who struggle academically in school, especially our traditionally underserved youth, often don't see anything positive in their future. That's when they get involved with crime. Some join gangs. Others steal. They spiral into a well of hopelessness, too many end up in prison.
For years, in a "one-size-fits-all" approach, our schools have steered students toward college. But college isn't for everyone, and the assumption that everyone should go to college has let a lot of kids fall through big cracks.
Providing career and technical education to high school students not only can put young men and women on a career path; it can also show them a new way to engage in school so they can take advantage of everything high school has to offer. Statistics also show a dramatic link between career and technical classes and graduation rates.
Hands-on learning that career technical classes provide, whether the more traditional courses like metals and wood working or modern ones like biomedicine, ship navigation and math for medical professionals, connects students to the real world.
They see the results of the work – and they understand the relevance. Often, we'll see these students putting in extra time on their coursework instead of fleeing school as fast as they can.
But schools simply don't have the funds to provide these essential classes at the level that's required to engage enough of our students.
That's where Measure 98 comes in. As Oregon's economy grows, Measure 98 captures new state revenues to be dedicated to public high schools. The schools can expand their career and technical education curriculum so that every student who wants access has it. Schools also can spend the money on college prep classes and dropout prevention.
What I think is really important about the way Measure 98 is written is that it gives local school districts the ability to determine what they need and gives them the funds to accomplish it.
For instance, in Portland, we are experiencing a shortage of police officers due to a lack of qualified applications. The district and the community could come together to start a career program that allows our students in high school to build the skills they need to become a police officer.
We can't afford to lose a single child to hopelessness, joblessness or gang life. The cost to a family is too much to bear. The cost to society is intolerable.
We can't wait any longer to start saving our youth. Please join me in supporting Measure 98!
George Weatheroy is director of security for Portland Public Schools and a retired sergeant with the Portland Police Bureau.