Focused on Equity
Diversity paramount for new PDC leader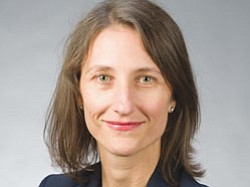 The new leader for the Portland Development Commission says she's ready to promote economic opportunity in the city while making sure that the people who benefit from new business growth and jobs include people of color and other disadvantaged groups.
PDC Executive Director Kimberly Branam said creating more equitable wealth by increasing access to jobs for residents in need, as well as evaluating the results of who gains from PDC's investments, initiatives and programs, is part of a five year strategic plan at the government agency that she takes seriously.
"It is my job to make sure that we are moving forward with this important work," Branam said, in an interview with the Portland Observer.
"When I think about what I need to focus on and what I want to accomplish in the first year," says Branam, "one area that's a primary focus is ensuring that we have a diverse work environment that reflects the City of Portland."
A former deputy director at PDC for five years, Branam was promoted into the governmental agency's top position last month. She also has experience leading the economic and workforce development team of former City Commissioner and Mayor Sam Adams.
A Portland native, she brings a deep knowledge of the city with connections to the movers and shakers in government and private industry. She holds a masters degree in public policy and has the unique experience of doing community development work in West Africa as a volunteer for the Peace Corps.
One of her first hiring decisions at PDC was adding an experienced African-American leader to her team. Serilda Summers-McGee will be leaving her position as head of Human Resources at the Oregon Department of Education to join PDC as its new director of human relations and workplace development. Summers-McGee starts the position in October.
Branam says PDC requires "a diversity of backgrounds so we can be as effective as possible."
The agency's 2015-2020 Strategic Plan runs deep, but it essentially calls for developing healthy and accessible neighborhoods, improving access to employment, equitable wealth and creating civic networks, institutions and partnerships that establish "prosperity among all Portlanders."
Given the disparities that exist, not everyone has benefited from PDC's past economic development activities and future investments need to focus on widely shared prosperity amongst all residents, Branam says.
"We want to make sure we're helping communities that have historically not had the same opportunities as wealthier communities," she says.
On the course of action she will follow, Branam says PDC can do more to support small, and minority owned businesses, such as developing mentorships for up and coming minority entrepreneurs and ensuring that PDC construction and contracting funds equally go towards minority projects.
Branam is asking for community support and input on bringing PDC's goals to fruition. She invites people to attend two upcoming forums at New Song Church in northeast Portland on Tuesday, Oct. 6 and Oct. 20 to discuss the strategic plan with the community.
"We would like to dramatically increase the number of families that are self sufficient, so that they can sustain their families and be able to really thrive in our city," says Branam. "I'm really excited about what we have in front of us."