Author Exposes Online Hate
Delves into the anonymous, bigoted speech
4/6/2017, 2:17 p.m.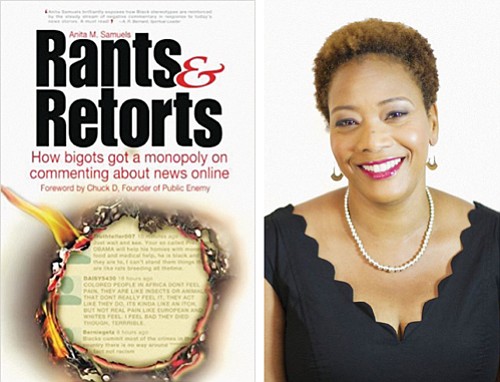 An award-winning black journalist is taking on the trolls. Anita M. Samuels' new book, "Rants & Retorts: How Bigots Got a Monopoly on Commenting about News Online," exposes the rise in online hate speech.
Since 2008, Samuels has delved into the rampant racism festering in comments sections on many news websites. The unfettered hate, often spewed under the cover of anonymity, is taking its toll on Americans everywhere.
Beginning in the early 1990s as a way to engage with readers, comments sections on mainline publications quickly devolved into a cesspool of negativity and naked racism from people who post messages behind "screen name" aliases.
These were not mere differences of opinion; when stories had to do with African Americans those writing often attacked the entire Black race.
Alarmed by the trend and encouraged by friends and colleagues to write a book, Samuels began to collect examples of these comments, to research the psychosocial causes behind them and ask news corporations what they were doing about them.
Samuels said immersing herself in the subject took a toll on her psyche and has taken a toll on the American public at large.
With interviews with some 30 experts on media, culture, psychology, and technology, Rants & Retorts chronicles the ascendancy of hate speech in many online news forums. It also presents dozens of anonymous comments by topic including on Barack Obama's presidency, crime, education and parenting, among others, and examines the harmful stereotypes and divisive beliefs these Internet rants perpetuate in American society.
Rants & Retorts is available at Amazon.com and local bookstores.