Ducks Just Shy in Final Four
4/6/2017, 2:07 p.m.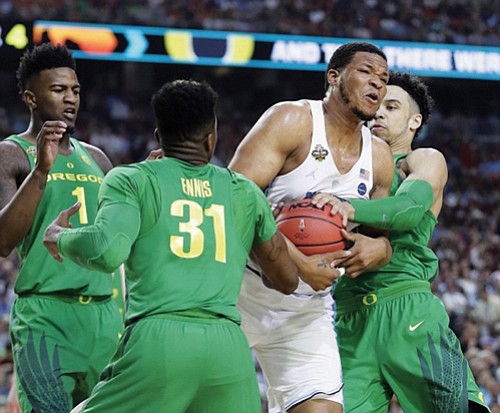 Oregon struggled shooting from the perimeter and gave up two offensive rebounds on missed free throws in the final 6 seconds, leading to a disheartening 77-76 loss to North Carolina in the Final Four Saturday in Glendale, Ariz. It was the first time Oregon had advanced this far in the NCAA basketball tournament since they won the national title in 1939.
"A close loss like this drives coaches crazy, drives players crazy because you think about every little thing," Oregon coach Dana Altman said.
Oregon (33-6) shot 38 percent, went 3 for 18 from 3-point range in the second half and had 16 turnovers, yet pulled within 77-74 on Tyler Dorsey's 3-pointer with 45 seconds left.
The Ducks cut it to 1 on Keith Smith's layup and fouled Kennedy Meeks, who had 25 points and 14 rebounds. He missed both free throws, but the Ducks were unable to box out Theo Pinson, who got the ball to Joel Berry II.
Like Meeks, Berry missed both of his free throws, this time with 4 seconds left. Like the previous go-round, Oregon again couldn't keep the Tar Heels off the offensive glass.
Meeks grabbed the offensive board and North Carolina dribbled out the clock, earning a spot over the Ducks for the national championship game Monday night against Gonzaga.