Tar Heels National Champs
4/6/2017, 2:13 p.m.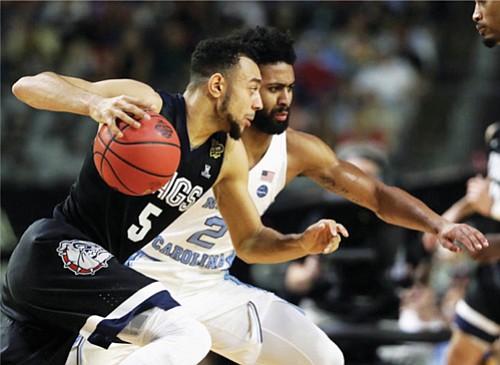 (AP) — North Carolina has its sixth NCAA basketball championship.
The Tar Heels survived an ugly, foul-filled second half Monday night in Glendale, Ariz. to beat Gonzaga 71-65. They scored the final eight points of the game to pull out the victory. Justin Jackson delivered the go-ahead 3-point play with 1:40 left.
Beating the Spokane-based Zags, which had made it to the Final Four and Championship game for the first time, washed away a year's worth of heartache for North Carolina, fueled by the team's devastating loss in last year's title game on Kris Jenkins' 3-point dagger at the buzzer for Villanova.
"I wanted to see this confetti fall on us and we're the winners," said Carolina's Joel Berry II, who led the Heels with 22 points. "We came out here and we competed. It came down to the last second, but we're national champs now."
The Tar Heels (33-7) followed a terrible-shooting night in the semifinal with an equally ice-cold performance in the final — going 4 for 27 from 3-point land and 26 for 73 overall.
Gonzaga, helped by 8 straight points from Nigel Williams-Goss, took a 2-point lead with 1:52 left, but the next possession was the game-changer.