In Loving Memory of Mary Harrison
4/11/2017, 3:48 p.m.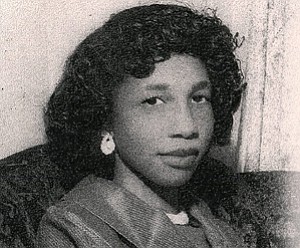 Funeral services for Mary C. Harrison, who died on April 3, 2017, will be held Thursday, April 13 at 11 a.m. at Antioch Missionary Baptist Church. Viewing will take place one day prior on Wednesday, April 12, from 4 p.m. to 7 p.m. at Terry Family Funeral Home.
She was born Oct. 16, 1931 in Beaumont, Texas to Joseph Shilow and Gertie Perry Shilow. She graduated from Hebert High in Beaumont, attended Prairie View A&M in Texas, and later graduated from Portland Community College with a degree in nursing.
She held many honors and positions, including as a department head for P & S Hospital, Blue Bird leader, PTA president at Woodlawn School, president of the Oregon chapter of the Association of Colored Women, and Easter Star Grand Worthy Matron.
She is survived by her daughter, Golden Young (Rev Eddie Young); two sons, Shelton Harrison Jr. (Renee Harrison) and Ricky Harrison (Elaine Harrison); a brother, Barry Burns; 10 grandchildren, 18 great grandchildren, one great-great granddaughter, and a host of nieces, nephews, and cousins.
For more information, visit terryfamilyfunealhome.com.