Opening Eyes to the Struggles of Others
New documentaries offer something for everyone
Darleen Ortega | 4/11/2017, 3:25 p.m.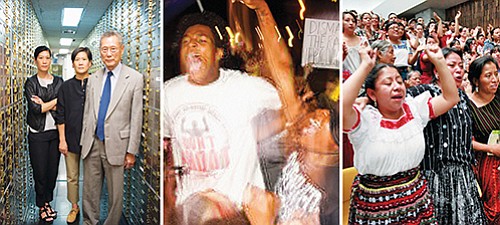 "Strong Island" is the very personal work of director Yance Ford, who received an Emerging Artist Award from Full Frame and a Filmmaker Award from the Center for Documentary Studies at Duke University for this film. Ford's older brother William was shot and killed 25 years ago, but the killer was never prosecuted. That injustice opened a wound in Ford's family that can never really heal, not only because of the grief of losing a loved one to violence but also because the loss and injustice has been denied recognition and reckoning. In the years since, we have watched as countless other black families have experienced similar losses at the hands of white perpetrators who are never prosecuted. Ford sets out here to grasp for his family's truth, putting it in the context of his hardworking parents, who left the Jim Crow South to pursue better hopes in New York and who raised Ford and his two siblings in very segregated Long Island. How does one tell a story that will always remain unresolved? Though the film has received critical acclaim, Ford has received some criticism for waiting until late in the film to reveal some information that likely was the basis for a claim that the shooting happened in self-defense. I appreciated his choice, after so many instances of watching stories of black people being shot followed immediately by tales of their misdeeds and explanations for why they brought violence on themselves. I felt Ford struggling for a more complete truth here, including how, immediately after his brother's shooting, the family sensed that their lost loved one, who had been unarmed, was being treated more like a suspect than a victim of the white perpetrator who shot him at close range and whose own circumstances and record were far from clean. Watch this film not to critique Ford's storytelling choices but rather to sit for a few moments with the pain that he and his family must endure for much longer. A limited theatrical release is planned, and you can follow the film at strongislandfilm.com.
"500 Years" is the culmination of a trio of films about Guatemala by documentarian Pamela Yates, and focuses on a populist uprising that led finally to the resignation of Guatemala's president in 2015 and, eventually, to his incarceration. It's a surprisingly remarkable story; the government in Guatemala is controlled by a small number of ruling families and is manifestly corrupt, and the indigenous Mayan population has been horribly oppressed for 500 years. Yet in scene after scene, they show up in droves, prominently led by very fierce women. Even without following all of the nuances here, I was really amazed by what I saw. The film begins with a 2013 trial of a former president for genocide and crimes against humanity, which offers a glimpse of testimony of hundreds of Mayan people, some apparently quite brave judges attempting to hold onto the proceedings, and also terrible government efforts to subvert the whole thing. Our own government's history in Guatemala makes us complicit in so much that has happened here; this film offers hope and an important opportunity for bearing witness. In addition to Full Frame, the film also played at the Ashland Independent Film Festival on April 8 and you can follow its future trajectory at 500years.skylight.is.