Racism, Militarism and Extreme Materialism
Is it too late to heed MLK's warning?
Kevin Martin and the Rev. Dr. Herbert Daughtry | 4/11/2017, 4 p.m.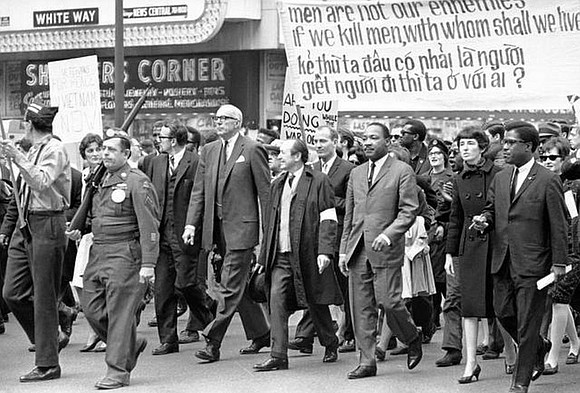 How many countries are we bombing right now? At least seven we know of: Syria, Iraq, Libya, Afghanistan, Pakistan, Yemen and Somalia. And as Dr. King claimed the bombs we dropped on Vietnam also exploded in American cities, the blowback to the U.S. from all the anger we sow and enemies we reap in these countries and around the world, will surely harm our country.
So what is it about the United States? Are we in the grip of what President Eisenhower warned us, the military-industrial complex (that he did a lot to empower before decrying it)? Weapons contractors make a killing, but they don't really help the economy. Military spending is about the worst way to create jobs and stimulate the economy. Education is the best, creating 2.5 times more jobs than military spending, according to economists at the University of Massachusetts.
We doubt anyone has any satisfactory answers to why our country is so uniquely militaristic, yet seemingly oblivious to the consequences. Perhaps peace and social justice activists and political leaders have for too long failed to integrate the struggles to overcome the giant triplets.
If that is the case, Martin Luther King Jr. still points the way toward a solution, 50 years after he first called out to us. Is it too late to hear his wisdom and change course?
As the impressive grassroots resistance to Trumpism continues to show up for racial, economic, social and environmental justice, we must also show up for peace and disarmament if we hope to one day realize King's beloved community.
Kevin Martin, syndicated by PeaceVoice, is President of Peace Action, the country's largest grassroots peace and disarmament organizations. The Rev. Dr. Herbert Daughtry is the National Presiding Minister of the House of the Lord Churches.