Clean Up Alberta Street
Earth Day event planned rain or shine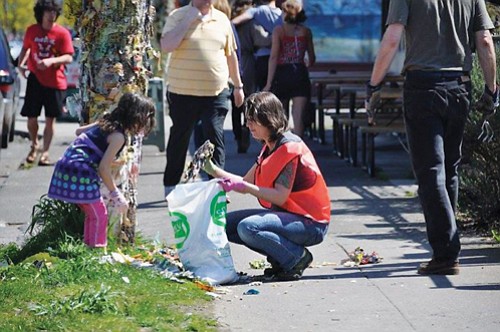 The Alberta Street corridor will get a cleaning Saturday when the community group Alberta Main Street hosts its seventh annual Alberta Earth Day Clean Up, presented by Pacific Power.
Rain or shine, friends and neighbors and other volunteers will focus on cleaning up litter, clearing storm drains, weeding and mulching at bus stops and removing graffiti along Northeast Alberta Street between Martin Luther King Jr. Boulevard and Northeast 33rd Avenue.
Volunteers of all ages are expected, from student groups, church groups, local businesses, area residents and neighborhood community members.
"Everyone is welcome! It is always wonderful to see people of different ages and backgrounds come together and work toward a common goal," said Sara Wittenberg, Alberta Main Street executive director.
Volunteer check-in is at 10 a.m. at Alberta Central on Northeast 18th and Alberta, and clean up starts at 10:30 a.m. Awards and post-cleanup festivities will take place immediately following the clean up with pizza for lunch, Salt & Straw ice cream, and a raffle featuring prizes from local businesses. The celebration will end around 1:30 p.m.
Volunteers are asked to bring their own water bottle, gloves and any tools that will aid in clean up. For more information, visit albertmainst.org.