TriMet Police Budget Draws Fire
Rider advocates oppose new transit precinct
Zachary Senn | 4/19/2017, 3:58 p.m.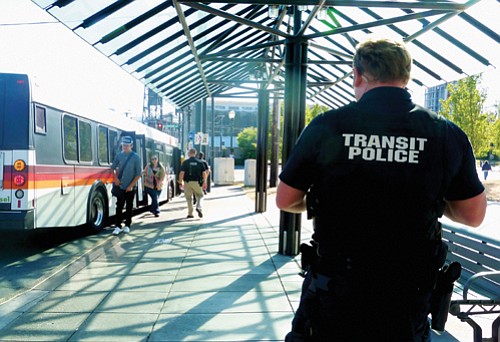 Advocates for low-income, transit-dependent communities are challenging TriMet's budget priorities, arguing that an added emphasis on policing comes at the expense of efforts to make public transportation more affordable to riders.
OPAL Environmental Justice Oregon and Bus Riders Unite oppose the transit agency plans to spend $11 million for the construction of a new transit police facility in northeast Portland and an additional $1.6 million to support transit police and security operations.
"Bus riders need more accessible, affordable transportation, not more racist policing on our buses!" OPAL declared in a community alert last week.
"Given the current political climate, it's a bad time to be putting more vulnerable populations under a microscope," Shawn Fleek, the community engagement coordinator at OPAL, told the Portland Observer.
A recent study by the Portland State University Criminal Justice Police Research Institute found that racial disparities in fare enforcement were a fact at TriMet. While no explicit racial bias practice was found, black riders, for example, were more likely to receive harsher penalties for fare evasion, such as exclusions, which bans riders from the TriMet system for up to 90 days.
Currently, TriMet transit police are made up of officers from 15 local law enforcement agencies. The officers are supplemented by a team of civilian fare enforcement supervisors.
The budget increase for the fiscal year starting July 1 would cover the cost of moving one of TriMet's four transit precincts, from inside a parking structure at Old Town to a larger parking facility that's being planned for a new convention hotel serving the Rose Quarter and Oregon Convention Center.
TriMet says that over the long run, the move will save them money, as the agency will be purchasing the space instead of renting it. Included are plans for two to three holding cells, and a space that officers can use to interrogate detainees.
Roberta Aldstadt, TriMet's media relations and communications manager, says previous attempts to call the new facility a jail are misconstrued.
Aldstadt says the current Old Town precinct already has two detention rooms. In addition, she says, additional space for the eastside location will mark no substantial shift in transit police procedures or policies.

The current location poses operational challenges and the added emphasis on policing is meant to help both riders and operators feel safe, she says.
"Anybody that's riding the system will tell you that it's beneficial to have police nearby when an incident occurs," Aldstadt explains. "There are some issues with the facility itself, such as water intrusion… Also, the parking is extremely limited."
Fleek argues that increasing spending on transit police is the wrong priority when TriMet is not sufficiently prioritizing the needs of low-income riders.
"We want to see that funding go toward increasing service and improving accessibility," he says. "Safety doesn't just mean the presence of more police officers… Safety has a different definition when you're a low income person, or a person of color, who is used to being harassed by police officers."
OPAL wants TriMet to support its low-income fare program proposal, which also is estimated to cost about $11 million.
The Low Income Fare Equity (LIFE) program would be available to anyone whose income is below 200 percent of the Federal Poverty Line, and would offer monthly passes at the Honored Citizen rate of $28.
"Transportation is a lifeline, and just because people are unable to afford that $2.50 doesn't mean that they don't deserve to go to the doctor, or that they don't deserve to get to their job," Fleek says. "The most common instance is when a person has to make a choice between getting on a train and spending the $2.50 to try and get to the grocery store, or spending that $2.50 on extra groceries."
Aldstadt says that TriMet is attempting to implement a low-income fare system, and that there are currently services available to help those in need, such as the Access Transit program serving nonprofits and community groups with reduced cost fares.