In Loving Memory of Velesia R. Campbell
4/25/2017, 3:56 p.m.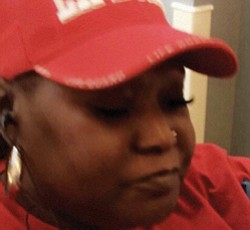 Velesia R. Campbell (aka Felicia) was affectionately known as grandma Lesia to all the young people that knew and loved her. She loved many things, but most of all she loved spending time with her grandchildren and riding passenger with her husband, soulmate and love of her life Charles Campbell.
Felicia was born and raised in Portland. Her parents welcomed her to the world on Nov. 10, 1963m and the Heavenly Father called her home to Glory on Sunday, April 16, 2017 surrounded by family and friends.
Felicia will be remembered for holding no punches. She would always let you know what was on her mind. We will forever in our hearts remember her keen sense of humor, the love she had for her family and friends and inseparable relationship she had with her charming cat Frank.
Felicia was preceded in death by her mother Shirley "Dean" Hadley. She leaves to celebrate her memory, husband Charles Campbell; daughter Quintoshia Bell; son, Larry Bell Jr.; grandchildren Chanteaje' Taylor, Adrian Bell, Cameron Bell, Jaliyah Jointer, Josiah Jointer and Amari Winston; and a host of other family members and friends. May our loving mother and grandmother rest in heavenly peace.
Funeral services were held Tuesday, April 26, at the Highland Christian Center. The Arrangements were under the direction of Terry Family Funeral Home.