Police Oversight Hurdles
Community fight to keep reforms on track
Zachary Senn | 4/25/2017, 4:44 p.m.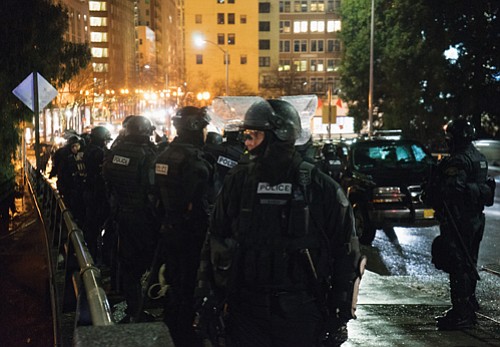 Portland community leaders are fighting to keep efforts to reform the Portland Police Department on track amidst a slew of delays, complications and opposition from the Trump Administration.
A framework for Portland police reforms was established after a federal Department of Justice investigation found that the Portland Police Bureau had used excessive force against those suffering from mental illness. As a result of the subsequent 2012 court case, "United States v. City of Portland" a settlement between the Justice Department and City Hall was reached which spelled out what law enforcement policies, procedures and oversight measures needed to be enacted or changed.
But since that time, the citizen committee formed to track progress has been slow going and was essentially dissolved in January due to constant in-fighting. A new blow came earlier this month when Attorney General Jeff Sessions spoke out against being involved and ordered a review of all Justice Department agreements with local law enforcement offices across the country.
Rev. Dr. Leroy Haynes Jr., a lifelong black civil rights activist, beginning with his community organizing work in Dallas in the 1960s, and since moving to Portland in 1997, has been instrumental in the push for police reforms. Haynes serves as the pastor of Allen Temple CME Church in northeast Portland and as the chair of the Albina Ministerial Alliance Coalition for Justice and Police Reform.
Following a series of officer-involved killings, including those of James Chasse and James Jahar Perez, the AMA justice coalition successfully joined other activists including the Portland NAACP and Copwatch to call for a federal audit of the city's law enforcement department.
"Out of that audit, we had the issuing of this settlement agreement," said Haynes, in an interview with the Portland Observer. "The investigation came back and showed that the Portland Police Bureau used excessive and unnecessary deadly force against persons that are mentally ill."
Most major cities with DOJ settlement agreements are assigned a court-appointed monitor to ensure that reforms are properly carried out. Portland, however, opted for an experimental model of reform enforcement that created a community-based committee, the Community Oversight Advisory Board (COAB).
The COAB is a diverse coalition of community stakeholders that is charged with assessing whether or not the Portland Police Bureau is meeting the terms of their DOJ agreement. By reporting their findings and recommendations to a compliance officer and community liaison, the panel was empowered to direct how police reforms would be carried out in the city. But when the group disbanded, so did the effort to evaluate the reform efforts effectiveness.
"There were mistakes made at the beginning of the development of the board, by not having any training or orientation," Haynes said.
Portland Mayor Ted Wheeler, who serves as the police commissioner managing the Police Bureau, said he supports and understands the need for police reforms.
"We have a large number of senior level individuals in the Bureau on paid administrative leave or who are under investigation," Wheeler said. "Many of the potential violations occurred in the past and the inquiries into officer misconduct are still ongoing."