Police Oversight Hurdles
Community fight to keep reforms on track
Zachary Senn | 4/25/2017, 4:44 p.m.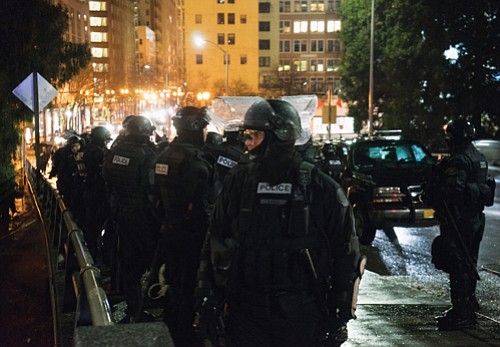 During his election campaign, the mayor promised a nationwide search for a new police chief, a pledge he says he is keeping by looking for a department leader who can commit to making the reforms spelled out in the consent decree.
"We are going to be a 21st Century police bureau," the mayor said, adding, "We're going to be diverse. We are going to focus on conflict resolution, de-escalation, and demilitarization. That is what the community wants."
Wheeler said that one key component of his approach to police reform is de-escalating conflicts by attempting to limit minor infractions that officers can use to cite citizens.
"If we tell our police officers to stop citing people for spitting in public or crossing the road at something other than a 90 degree angle… then (police) no longer have the Constitutional hook to do a random police search," the mayor explained, adding, "That's the direction I want to move."
Threatening to pursue legal action if the new Trump administration attempts to modify any of the standing federal oversight agreements with troubled police departments is the NAACP in Washington, D.C.
NAACP President and Chief Executive Cornell Williams Brooks promised April 7 to continue fighting for justice for people of color nationwide, calling the potential rollback of federal oversight a "morally bankrupt step that could have disastrous results regarding the protection of black lives."
Haynes gives credit to some of the progress that has already been made in Portland to the federal government coming as a form of leverage that is "totally separate from the city government."
One meaningful reform implemented as a result of Portland's DOJ agreement shaved down some of the bureaucracy related to the processing of civilian complaints against Portland police officers, Haynes said.
"The DOJ described the system in Portland as Byzantine when citizens filed complaints," he said. "They have been mandated by the settlement agreement to correct that problem."
Additionally, revamped training measures and an emphasis on mental health awareness have helped the Portland Police Bureau reform some aspects of its day-to-day operation. An April 3 compliance report by the COCL found that the Portland Police Bureau has partial compliance or substantial compliance with nearly all of the DOJ's orders.
Haynes said that the federal pressure placed on the Portland Police Bureau is important for maintaining the momentum to reform.
"DOJ is a not a panacea," Haynes added, "It won't solve all the problems. But it is another leverage of oversight."
Regardless of whether or not the Justice Department continues its oversight of the Portland Police Bureau, Haynes said community members must continue to hold officers accountable.
"Citizens have to be engaged in the process of community policing, engaged in the accountability process," he explained.
Wheeler agreed, stating that the pressure from activist community groups on city government is healthy in a democratic society.
"There should be a healthy tension, because we have to be held accountable," Wheeler said.
Both Rev. Dr. Haynes and Mayor Wheeler agree that reforming the Portland Police Bureau will require more than procedural shifts: it will require a change in the organization's culture.
"Ultimately," said Haynes, "It's about creating a culture of treating people as human beings."