Most Successful Concert Season
Oregon Symphony energized by growth
8/1/2017, 2:31 p.m.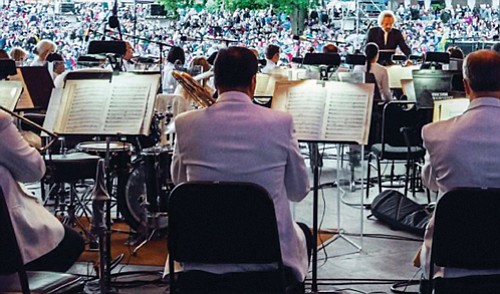 Wide-ranging musical offerings and energized community engagement efforts have help set new records for the Oregon Symphony.
The organization reports all-time records set in virtually every category from its recently concluded season, including number of concerts, audience attendance, subscription revenue, single ticket sales, the number of sold-out concerts, percentage of first-time ticket buyers, the amount raised at the annual gala, total number of donors, total number of new donors, and the amount of overall contributions.
These high-water marks resulted in the Oregon Symphony's eighth consecutive balanced budget, officials said.
The symphony also expanded its education and community engagement efforts, increasing the number of programs staged throughout the year by 4 percent and reaching 19 percent more people throughout the community:
The annual free Waterfront Concert drew 15,000 attendees, and featured more than a dozen performing ensembles, including BRAVO Youth Orchestras, Metropolitan Youth Symphony, Portland Youth Philharmonic, and Portland Taiko. The Oregon Symphony's performance reached additional listeners worldwide via broadcast by All Classical Portland.
The annual Gala included a free community concert for an audience of 2,500.
The Oregon Symphony's brass ensemble returned to Coffee Creek Correctional Facility, where the CCCF choir joined them in a holiday performance for 235 inmates and staff.
"This has been an extraordinary season," said Scott Showalter, Oregon Symphony president. "We thank our community for its enthusiastic support, and recognize as well the exceptional musicianship of the orchestra, which together have made it possible to inspire audiences throughout the region with an ever-expanding repertoire."