Mayor Names New Police Chief
Oakland cop will be first black woman to lead bureau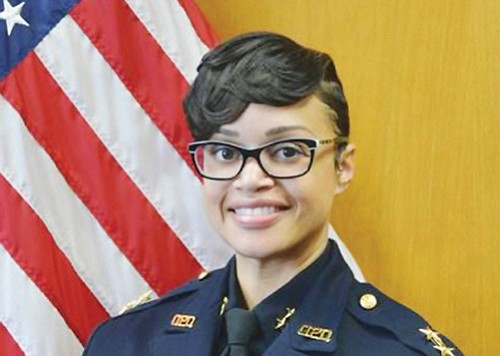 Citing the national push for police reforms and the opportunity to hire someone with qualities he wants, Mayor Ted Wheeler Monday picked Danielle Outlaw, an experienced assistant police chief from Oakland, Calif., to become Portland's new police chief and the first black woman to lead the bureau.
Outlaw has 19 years of experience. She was only the second female deputy chief in the history of the Oakland Police Department and the first this century.
At 41-years old, she will take command of a Portland Police Bureau that has struggled to hire new officers; is noncompliant with a federal settlement agreement that requires changes to bureau policies training and community engagement; has ongoing controversies about the police handling of large protests; and has suffered from a breakdown in trust with community members.
Wheeler said Outlaw shares his goals of improving relationships with Portland's communities of color, increasing diversity on the 950-member force and embracing equity. He cited her ability to provide leadership with the rank-and-file, working effectively with diverse communities, and leading an organization committed to community policing, transparency and accountability.
The mayor, who took office in January, emphasized he wanted a police chief based on the principals of former President Obama's Task Force on 21st Century Policing, an effort that started after the 2014 death of Michael Brown, the black teenager killed in an officer-involved shooting in Ferguson, Mo.
"I have concrete goals for the Portland Police Bureau, all of them challenging to achieve," Wheeler said in a statement. "I need a partner. I need a leader. More than that, I need someone with a passion for this work who will be in it for the long haul. Danielle Outlaw is that person."
The mayor selected Outlaw from 33 candidates after a national search that lasted less than three months and was conducted largely behind closed doors with input from a select group of community members.
"My life's passion is policing. I want to make a positive difference in the lives of my fellow officers and the residents of the community," Outlaw said in a prepared statement released by the mayor's office. "Portland is an amazing city. I am humbled by the tremendous opportunity in front of me, and am ready to get to work."
Outlaw also stated her intention to live within Portland city limits. The large number of police officers who live outside the city has been a sore spot for many residents.
The pick ends current police Chief Mike Marshman's yearlong tenure at the helm. Former Mayor Charles Hales appointed Marshman as chief in June 2016, after former Chief Larry O'Dea retired amid a criminal investigation into his off-duty shooting of a friend during a camping trip in southeastern Oregon.
Wheeler praised Marshman's brief tenure. "Mike Marshman made tremendous strides in key areas during his time as Chief," Wheeler said.
Marshman learned of the selection in a Monday meeting with the mayor.
"It has been an honor to serve as Chief of Police and to serve this community throughout my career," he said in a statement. Marshman plans to retire, the statement said, and assistant chief Chris Uehara will be named interim chief until Outlaw takes on her new role.
Outlaw's resume includes earning a bachelor of arts in sociology from the University of San Francisco and a master's degree in business administration from Pepperdine University. She's a member of the National Organization for Black Law Enforcement Executives and is vice president of the San Francisco Bay Area National Organization of Black Law Enforcement Executives.
Outlaw will earn $215,000 annually and is expected to start no later than Oct. 2. The offer of employment is contingent upon the successful completion of a background check conducted by the Oregon State Police. The background check is expected to take four to six weeks.
--Associated Press contributed to this report.