A Music Man's Music Man
Terry Currier has his day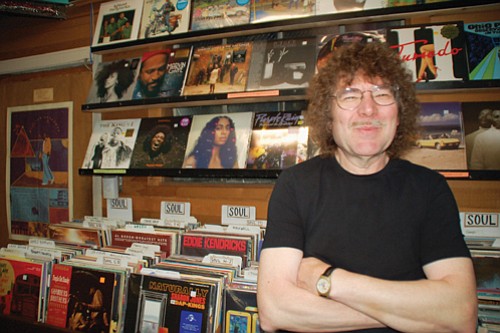 Terry Currier is a local hero. His reputation doesn't rest on saving kittens from trees or aiding senior citizens at crosswalks. While you may not have heard of him, Portland's diverse music scene and recording artists across the country have benefitted from his love of music and his drive to keep it playing.
Saturday, Aug. 12, the owner of Portland's oldest music store, Music Millennium, is honored for his achievements as the mayor has officially designated the day as Terry Currier Day."
Currier has a lot on his plate. He is an organizer with the Portland Jazz Festival, an advisor to the Cascade Blues Festival, a founder and board member of the coalition of Independent Record stores, founder of the Oregon Music Hall of Fame, and owner of Burnside Records and Burnside Distribution Company.
His day job is running Music Millennium, the oldest record store in the Pacific Northwest, located at 3158 E. Burnside. Music Millennium caters to every music taste that's been put down on vinyl, tape, c.d. and digital unless of course you're looking for a Garth Brooks' album. A national dispute over selling used copies of albums led Currier and Brooks to have a public showdown between the record industry and the stores that put music into the hands of customers.
Currier won in a big way and from the intense battle came a kernel of an idea, to celebrate the brick and mortar places which house artist's titles and are usually staffed by walking music encyclopedias. Record Store Day has been celebrated since 2007, with people lining up around the block to buy special releases in indy music shops around the world.
Since 1989, Currier has pioneered the in-store live music experience with over 4,000 concerts held at Music Millennium. While the who's who of music has played in the store, two concerts are highlights in Currier's career. A few years before his death, Mal Waldron, Jazz siren Billie Holiday's regular accompanist and pianist for John Coltrane, Max Roach, Eric Dolphy played a set. Currier also holds dear to his heart a performance by five time Grammy Award winning gospel group, The Blind Boys of Alabama. Currier was intrigued and surprised, when member Jimmy Carter, went digging through the store's catalog for his favorite Country and Western artists.
Currier is a music fan's music fan. As a kid he played the clarinet and because of his intense dedication to the craft, it seemed Currier would go on to pursue music in college. But, as a teen he was introduced to cars and girls and that, of course, changed everything. When he was 16, he bought a '66 Mustang so he would have a sweet ride to take his date to prom in. The car had a radio and the popular music he heard for the first time changed his life. After graduating, he went to work as a record store clerk and bought 665 pieces of vinyl.
Currier still gets that contagious excitement of buying your first record gleam in his eye when he's talking music. His drive working on multiple committees, signing artists, promoting artists focuses on that energy- bringing the sheer joy of music appreciation and the artists that write the songs together.
Without Currier's dedication to artists and fans, in an age where pirated downloads and sharing can keep money out of musician's wallets, his work is more important than ever. He's kept up his own battle on that end, as online platforms offer cheap ways to get singles and give little back to the makers, the slower customer foot traffic and rising rents in Portland have put him in a squeeze. With his creative strategies to connect performers and audiences, Currier has helped keep the money flowing and the support going. Along the way, he's been gifted dozens of awards, with names such as "Keeping the Blues Alive" from the Blues Foundation and "Lifetime Achievement Award" from the Cascade Blues Association.
While Currier is working with the here and now, he's also got his eyes on the future. Portland Jazz Festival's 'Jazz in Schools' Program reached 10 schools and 1,500 children last year through a hands on listening opportunity, which focuses on the most important contributors, essential records and the crossover between visual art and the music. Students created their own works of art and next year's gallery show of their creativity will be held at the Portland Art Museum.
Currier won't stop anytime soon, his audio library has grown to include 50 thousand titles and a museum quality collection of autographs and memorabilia from his decades in the music world. 'Terry Currier Day' also appropriately coincides with the Music Millennium 25th Annual Customer Appreciation Barbeque. For Currier, it's all about sharing the songs with the person next to you.