A Music Man's Music Man
Terry Currier has his day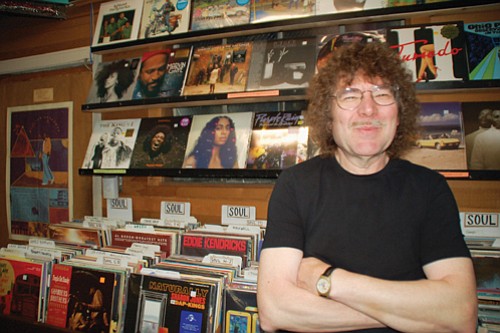 Currier still gets that contagious excitement of buying your first record gleam in his eye when he's talking music. His drive working on multiple committees, signing artists, promoting artists focuses on that energy- bringing the sheer joy of music appreciation and the artists that write the songs together.
Without Currier's dedication to artists and fans, in an age where pirated downloads and sharing can keep money out of musician's wallets, his work is more important than ever. He's kept up his own battle on that end, as online platforms offer cheap ways to get singles and give little back to the makers, the slower customer foot traffic and rising rents in Portland have put him in a squeeze. With his creative strategies to connect performers and audiences, Currier has helped keep the money flowing and the support going. Along the way, he's been gifted dozens of awards, with names such as "Keeping the Blues Alive" from the Blues Foundation and "Lifetime Achievement Award" from the Cascade Blues Association.
While Currier is working with the here and now, he's also got his eyes on the future. Portland Jazz Festival's 'Jazz in Schools' Program reached 10 schools and 1,500 children last year through a hands on listening opportunity, which focuses on the most important contributors, essential records and the crossover between visual art and the music. Students created their own works of art and next year's gallery show of their creativity will be held at the Portland Art Museum.
Currier won't stop anytime soon, his audio library has grown to include 50 thousand titles and a museum quality collection of autographs and memorabilia from his decades in the music world. 'Terry Currier Day' also appropriately coincides with the Music Millennium 25th Annual Customer Appreciation Barbeque. For Currier, it's all about sharing the songs with the person next to you.