Whole Child Education
KairosPDX celebrates five years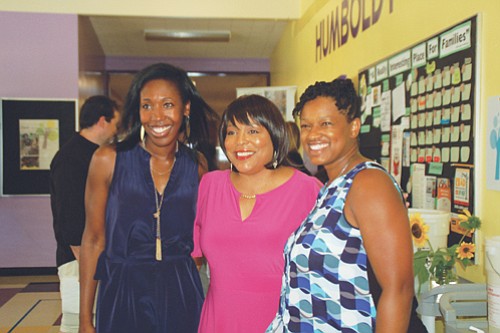 KairosPDX, a north Portland K-5 charter school dedicated to bringing whole child education to underserved children, celebrated its 5 year anniversary this past Friday.
Students, parents, grandparents, siblings, teachers, school board members and administrative staff welcomed the community, donors and supporters to KairosPDX's recently acquired building, the former Humboldt Elementary at 4915 N. Gantenbein Ave.
On hand to support and share in the accomplishments of the school and current 140 students was Multnomah County Commissioner Loretta Smith, who took an early role in supporting the launch of the school, former County Commissioner Jules Bailey and current Portland School Board Member Mike Rosen.
Festivities kicked off with a tour of the school garden, which is maintained by students and teachers with heritage seeds from student family members.
Commissioner Smith and executive director Kali Thorne Ladd shared a few well chosen words on their pride for the students and school's all around growth and success in half a decade. A young student named Patience, however, stole the show by warmly telling the crowd of 30 or more people why the garden is special place for her and her peers and how much she is enjoying her academic career.