'From 3 to PhD'
A new school to follow child's needs to adulthood
Zachary Senn | 8/15/2017, 5:14 p.m.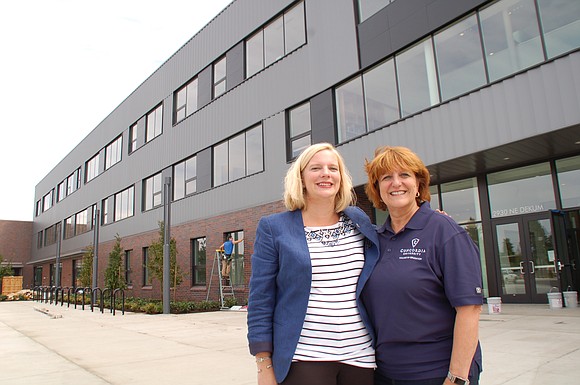 Throughout the process of reimagining Faubion School, McCalley says that a tremendous amount of community input was weighed and considered. She says that voices from the community shaped the new institution into what it is today.
"It's a community driven project," she explained. "I could point to the parent in our school whose idea it was to have the food club."
Other aspects of the new school's design and programming were also inspired by the 29 parent meetings that PPS hosted throughout Faubion's design phase.
"The families have such a deep involvement in the design of the school," said McCalley. "The health clinic was something families asked for."
Even the school's students played a role in the building's final outcome.
"All 500 students hand wrote letters to the architects about what they wanted," McCalley said. "We were actually able to implement quite a bit of what they wanted. We did a lot of architectural features to make the building feel welcoming, and safe and inviting."
Preserving Faubion School's generational nature has been another important part of the institution's rebuilding process, McCalley says.
"Grandparents, parents and kids go through this school," said McCalley. "It's that kind of a legacy that instills such a deep sense of pride within the community in a local school."
By recycling parts of the old Faubion School into the new building, McCalley says that PPS has been able to preserve generational continuity for the school's alumni and their children.
"We had a non-native sequoia tree on campus that had to come down," said McCalley, "but instead of getting rid of it, we had it manufactured into benches and tables."
She adds that by incorporating community voices and involvement throughout the design and construction process, Faubion is a school that everyone in the community can be proud of.
"We want this school to be the heartbeat of the community, and that's something that we're really proud of," McCalley said. "It's a huge source of pride for our families and for our communities."
*Correction from Faubion school to Faubion School + Concordia University, a 3 to PhD® community.