Convention Hotel to Create 3,000 Jobs
8/16/2017, 4:25 p.m.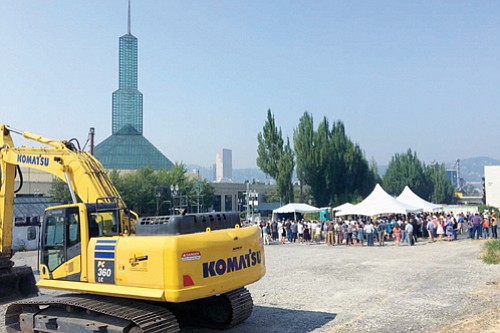 Metro and the Oregon Convention Center are partnering with Mortenson Development and the Hyatt Corporation to build a 600-room hotel adjacent to the convention center. Construction began on Aug. 4 with completion set for late 2019.
The hotel is expected to lure national conventions to Portland and by bringing visitors to the area, create and sustain jobs – all of which will generate new and increased spending and revenues for the Convention Center and the community.
According to independent analysis, the hotel will create 3,000 jobs, about 2,000 of them construction and 950 in the hotel and hospitality industry; attract 5 to 10 new mid-sized conventions to Portland each year; Boost annual hotel business by 70,000 to 110,000 new room nights; increase convention-related tourism spending to $600 million per year and generate $5.6 million in new state tax revenues and $4.7 million in new local tax revenues annually.