Domestic Terrorism Erupts in Charlottesville, Virginia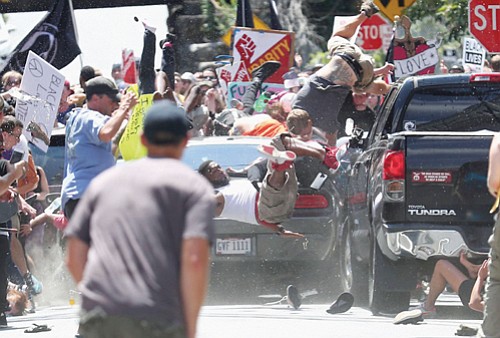 In a joint intelligence report released in May, the FBI and Department of Homeland Security warned of white supremacist groups in the United States, saying they will "continue to pose a threat of lethal violence over the next year."
On Saturday, August 12th violence erupted in Charlottesville, Virginia at a white supremacist protest against the removal of a Robert E. Lee statue, the Confederacy's top general. The white supremacist march called "Unite the Right" included members of the Ku Klux Klan, the American Nazi Party and other extremist groups who travelled from around the country to the small university town. News outlets and social media captured the white nationalists carrying Nazi and Confederate flags. The groups were described as armed like a paramilitary force.
By afternoon, after clashes with antiracist protestors, 34 people were left injured and three dead.
20 year old James Alex Fields, Jr. of Ohio has been charged with second degree murder. In a statement released from the city of Charlottesville, Mr. Fields was driving a Dodge Challenger "at a high rate of speed," which hit a number of antiracist protestors on the street before crashing into other vehicles, which were pushed into a crowd of pedestrians. The suspected driver then slammed the car in reverse and fled the scene backwards. 32 year old Heather D. Heyer, a paralegal from Charlottesville was left dead and 19 more people were injured.
On Monday, Attorney General Jeff Sessions denounced the violence in Charlottesville and described it as an "evil" act which meets the legal definition of domestic terrorism.
President Trump was criticized for his delayed response and is facing a backlash from Democrats and Republicans. Four top corporate executives have quit Trump's advisory panel over his Charlottesville response. Oregon Senator Ron Wyden said on Twitter: "What happened in Charlottesville is domestic terrorism. The President's words only serve to offer cover for heinous acts."
On Sunday, the mayor of Lexington, Kentucky announced the removal of Confederate monuments. A pro-slavery monument was taken down and destroyed by citizens in Durham, North Carolina.
Both Go Daddy and Google pulled the plug on the Daily Stormer, a long time neo Nazi and white supremacist news and commentary website.
In the wake of the violence unleashed on the small university town, mayors and state leaders across the country are calling for the removal of more Confederate monuments. On Sunday, from the east coast to the west, 130 rallies, including Portland, were held in support of Charlottesville.