Mother Nature Cooperates for The Great Solar Eclipse
For a few minutes on Monday morning, Hustle and bustle of Portland's streets come to a pause as the moon passes over the face of the sun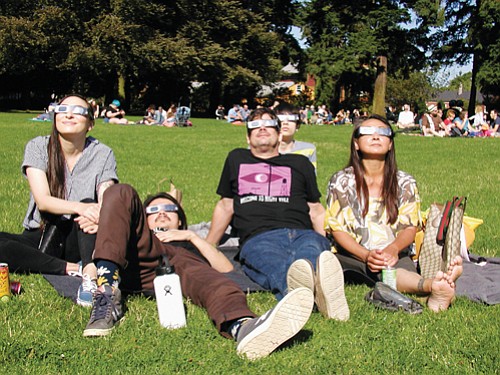 For a few minutes on Monday morning, the hustle and bustle of Portland's streets came to a pause as the moon passed over the face of the sun.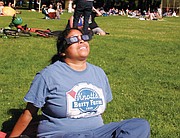 Families and friends gathered in green spaces and parks, lounging on picnic blankets and relaxing in foldout camping chairs all over the city to view a nearly complete solar eclipse on a bright and sunny morning. The path of complete totality was just south of Portland, stretching from Lincoln City, over Salem, Madras and John Day to the Idaho border.
Starting shortly after 9 a.m. on Monday, the celestial event began. Portlanders could be seen outside their homes, slipping on paper eclipse glasses with black film lenses to view a curved shadow engulfing the sun. Checking their watches for 10:19 a.m. as peak eclipse time edged closer, there was peaceful anticipation in the faces of people grouped together to view the spectacular event. At 99 percent totality, the skies over Portland and southwest Washington dimmed but did not completely darken.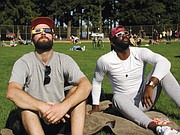 As the moon made its way in front of the sun, a filtered light took over and a quick cooler breeze swept by. Waving patterns of crescent moon shadows covered the ground, the sides of buildings and fences. The birds, insects and animals were silent.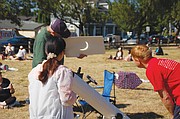 Other people on the job or on their way to work pulled over in cars, stopped pedaling their bikes and gathered on sidewalks to look up and experience the show. Busy pockets of shops, banks and cafes came to a halt and there was a sweet calm on the streets much like a holiday morning.
Hundreds of thousands of tourists descended upon Oregon for the eclipse, but dire predictions of traffic jams and supply shortages did not materialize. Photos flooding the Internet and social media websites showed travelers gathered on the foot paths of bridges and overtaking the higher summits to get the best vantage points.
While some felt there was a too much hype built up around the eclipse which made its way from Hawai'i to South Carolina, the event lived up to its promise.
At Mount Tabor in southeast Portland, a little girl was heard crying, because she wanted the moon to "do that again." Gasps and tears of joy were seen on adult faces. For a moment, the pull of nature grounded people and they were reminded of how powerful and amazing our little solar system is.