Where History Happened
Preserving the African American experience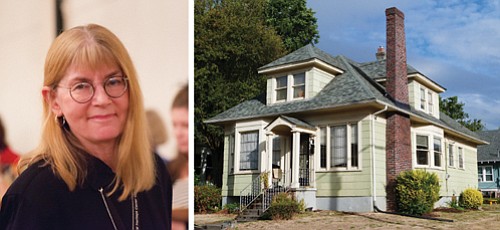 Portland's Architectural Heritage Center, which has long been engaged with preserving the history of the African American experience in the city, has stepped up its efforts to record and place important buildings on the National Historic Registry.
It comes as interest in designating African American historical resources has been on the rise in recent years. Last October, for example, one such designation was made for the Vancouver Avenue First Baptist Church, a majority African-American congregation that relocated to inner north Portland following the 1948 Vanport Flood.
Now the city of Portland's Bureau of Planning and Sustainability is partnering with the non-profit to document potentially historic black resources, giving property owners a better opportunity to more easily list their property in the National Register.
Cathy Galbraith, the founding executive director of the Architectural Heritage Center, says that with the rapid development that is taking place today, documenting historic buildings in Portland is like "chasing moving targets."
A recognized expert of Portland's African American history, she laments the loss of more homes, buildings and churches with historical black ties for new, same looking, "mixed use" box buildings.
In 1995, she worked with Portland scholars and community members to create the most in depth documentation of African American historic places with a report called Cornerstones of Community: Buildings of Portland's African American History.
The late black historian and newspaper columnist McKinley Burt participated with Galbraith in the effort, documenting African American places in Portland for the publication. Burt, who taught in the Urban and Black Studies department at Portland State University, and was a regular contributor to the Portland Observer, was affectionately known by his readers as "The Professor."
Black folks from every walk of life were interviewed by the Cornerstones team: Barbers, nurses, Pullman porters, doctors, football heroes, electricians, teachers, spiritual leaders, and early members of civil rights organizations. Cultural celebrities provided stories behind the local landmarks. The late Clara Peoples, the mother of Portland's Juneteenth Celebration and who also helped establish Meals on Wheels in Oregon is thanked for her contribution to the project.
When Galbraith and her fellow researchers began the process they expected to find close to 150 buildings with historical roots to the black community, and to their great surprise 1,284 were still standing. But Burt warned Galbraith shortly before his death that this work would be akin to "documenting destruction," she explained.
"I think of all the buildings that were on Martin Luther King in 1998, there was something like 11 or 12 that were in the index, now we're down to five. A couple were burned in fires, but everything else has been demolished and redeveloped," Galbraith said.
The 225 pages of Cornerstones is a touching time capsule of the men, women and children who migrated to Portland and established the roots of the African American community. It begins with a history of African Americans in Oregon and ends with an index of historic places.
The entries in the index are brief, but telling: 6 N. Tillamook St. was home to the African American YWCA and the NAACP, and is now the Billy Webb Elks Lodge, named after an important Jazz musician of his day. Some stories are endearing: the black Tigner family was blessed with the unusual gift of quadruplets and local Alpenrose Dairy gifted them a home in the 1950's after the births. Mrs. M Russell is described as "a splendid cateress and elocutionist" of the 1930's who works at Mammy Shack. Other stories are honest and heartbreaking, such as Clara Edler who cooked for the same family for 74 years, she was a slave to Colonel James Crawford and then worked for his daughter.
After the latest project to document buildings important to Portland's African American history was green lit, 1,000 letters were sent out to area home and building owners with the potential to be put on the National Register. Meeting the criteria to go on the registry can be a vital piece to any effort to preserve historic memories and landmarks in the face of gentrification for years to come.
With a grant from the Oregon state Historic Preservation Office, this continuation of Cornerstones will look at the themes, trends and patterns of history related to the African American experience in Portland.
The Architectural Heritage Center welcomes submission of photos, stories or other documentation that may aid in the preservation of Portland's African American history. To share, contact Stephanie Whitlock, AHC Executive Director, at Stephanie@visitahc.org or call 503-231-7264 or call Cathy Galbraith at 503-543-6813.