Affordable, Family Housing
Rutherford Place construction begins
8/23/2017, 7 a.m.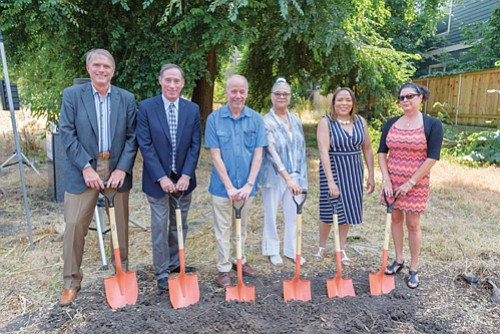 Central City Concern, a Portland non-profit serving people impacted by homelessness, poverty and addictions since 1979, recently broke ground on the first of three buildings in the Housing is Health initiative -- a pioneering commitment from local hospitals and health systems in supportive, affordable housing.
The Charlotte Rutherford Place--which honors one of Portland's pioneering African American families and their impact on the entire community, will rise from 6905 N Interstate Ave., providing 31 one-bedroom and 17 two-bedroom units as part of Portland's housing strategy to address displacement and gentrification.
Charlotte Rutherford is a community activist and former civil rights attorney, journalist, administrative law judge and entrepreneur. Her parents, Otto G. Rutherford and Verdell Burdine, were major figures in Portland's Black civil rights struggle. Her father was president and her mother was secretary of Portland's NAACP chapter in the 1950s, and they played an important role in passing the 1953 Oregon Civil Rights Bill. Her grandfather, William, ran a barbershop in the Golden West Hotel--now a Central City Concern residential building, and Otto worked there as well.