Memorial Tells Story of Dr. Unthank
Building community pride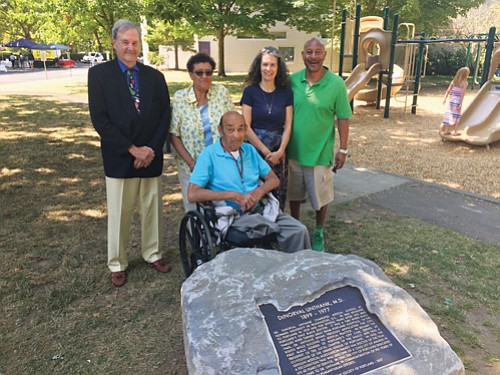 A memorial plaque telling the story of the late Dr. DeNorval Unthank, the first black doctor in Portland and a dedicated humanitarian who tirelessly advocated for civil rights while building his medical practice, was dedicated at Unthank Park in north Portland during an Aug. 19 community celebration sponsored by Self Enhancement, Inc.
The historical marker is a plaque attached to a large boulder that is now placed in the city park at North Kerby and Shaver that was named in Dr. Unthank's honor before his death in 1977. The memorial was made possible by contributions of the Lang Syne Society of Portland, a business group dedicated to friendship and preserving the memory of individual leaders who helped build the city.
Self Enhancement, Inc., the non-profit organization and public charter school providing academic support and services for African American and other students, sponsored the dedication during its annual free community "homecoming and music festival," an event that drew more than 950 community members.
The words on the memorial are as follows:
"DeNorval Unthank, M.D. 1899 – 1977 Dr. DeNorval Unthank completed medical school at Howard University in Washington D.C. He was recruited to Portland in 1929 and for several years after 1931 was Portland's only black doctor. It was a time when black families were turned away from Portland hospitals. In the 1940s Dr. Unthank began tirelessly advocating for civil rights while building his medical practice. He became the first black member of Portland's City Club, served as president of the local chapter of the NACP, and was a cofounder of the Portland Urban League. In 1958, the Oregon Medical Association named him Doctor of the Year, a recognition that was just one of a long list of awards in his 40 years of service. In 1969 the city of Portland dedicated this park to Dr. Unthank in commemoration of his years of activism in humanitarian efforts. Lang Syne Society of Portland – 2017"