Bigger Than Ever
Zoo's popular holiday light display is back
12/5/2017, 2:25 p.m.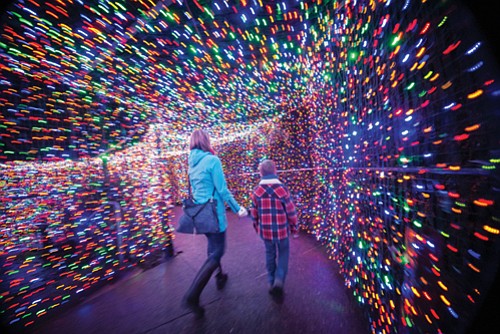 ZooLights is back! The Oregon Zoo's walk-through winter wonderland of more than 1.6 million colored lights has opened for its 30th season and is more popular than ever.
"Attendance has been off the charts the past several years," said Ivan Ratcliff, the zoo's guest services manager.
This year marks the 30th ZooLights for Ratcliff, who started working at the zoo in 1982 and has been involved with the light display since its inception. He has five tips to save money, avoid lines and get the most enjoyment out of your ZooLights experience:
Start your festivities early in the season. Most ZooLights visitors come on weekends and the weeks when school's out. But if you come on weeknights early in the season, you can avoid the crowds and save money. Value Nights — Monday through Thursday, through Dec. 14 — ZooLights visitors get a $5 discount on admission.

Ride MAX to the zoo. On non-Value Nights, the zoo offers a $5 admission discount for visitors who take TriMet (proof of ridership required). MAX is a great way to get to the zoo as the Washington Park stop lets you off just in front of the zoo entrance.

Show up fashionably late, unless you're driving. The big rush at ZooLights is usually from 4 p.m. to 6 p.m. If you come after that, you can avoid some of the crowds. But this strategy only works if you're taking MAX. The main parking lot and even the shuttle lots fill up fast, especially on weekends.

Buy your tickets online. You can buy your admission tickets in advance and bypass the line at the front gate. You can also buy zoo train tickets ahead of time for scheduled 15-minute intervals — that way, you spend more time enjoying the lights and less time in line. To purchase online tickets, go to oregonzoo.org/zoolights.