Homegoing Celebration
Perry Allen
12/5/2017, 12:41 p.m.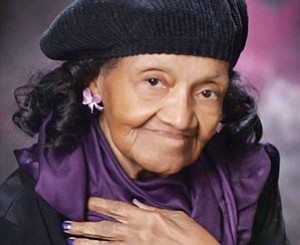 A homegoing celebration for Perry Lee Allen, who died Nov. 23, 2017, will be held Thursday, Dec. 7 at 10 a.m. at Mt. Olivet Church, 8501 N. Chautauqua Blvd.
She was born July 31, 1925 one of three siblings to parents Amos Wright and Mary Elizabeth Green. Educated in Chicago, she graduated high school from the De La Salle Institute. She met Lucious in Chicago and they married in Vancouver and from this union they were blessed with 14 children. She was also a mother figure to many others throughout the years.
She and her husband always welcomed neighbors and friends with open arms into their home, offering help in any way they could. She along with everyone else always excitedly anticipated her yearly birthday block party celebration.
Mother Allen worked as a nutritionist at King School, Waddles restaurant, and for many years as a volunteer for elections.
She loved to pray and would constantly walk through her home while talking to her heavenly father, whom she has joined. Her words were always "love and pray."
You will never be forgotten mom! We will continue to love and pray.