No Sit' Resistance to Mayor
Protestors say response criminalizes homeless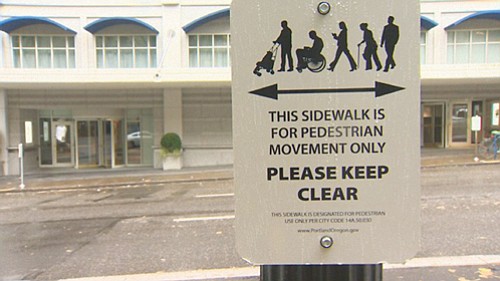 About 40 protesters rallied against so-called 'no-sit zones,' designated sections of city sidewalks where blocking pedestrian traffic is prohibited, at a demonstration Saturday outside the Columbia Sportswear flagship store, downtown.
Portland's Resistance, the group that organized the protest, called 'no-sit zones' a means of 'criminalizing houeselessness' and criticized Mayor Ted Wheeler for authorizing eight more city blocks with those designations last week, including two blocks near the Columbia store on Southwest Broadway. Two blocks near the Safeway on Southwest 10th and three more near the downtown Galleria were also posted as 'no-sit zones.'
Wheeler was urged to repeal the policy.
About two weeks prior, Columbia Sportswear CEO Tim Boyle wrote an op-ed in the Oregonian complaining about conditions downtown, saying his employees regularly get their cars broken into and one even received a death threat, and said he may have to move the store to a different location if things don't change.
Critics have noted that Boyle has contributed thousands of dollars in campaign contributions to Wheeler.
According to news reports, Wheeler authorized the Portland Bureau of Transportation to add eight new no-sit zones after sitting down with about 75 members of the Portland Business Alliance, an organization that originally requested that 90 blocks of 'no-sit zones' be implemented.
The Portland Bureau of Transportation has the authority to prevent people from sitting on downtown sidewalks if pedestrian safety concerns or design issues justify it, according to city policy. The Portland Police Bureau, however, has not been instructed to enforce the new signs, according to the Portland Mercury. The policy has been implemented in the past. In 2013, then-mayor Charlie Hales instituted no-sit policies to combat a protest encampment in front of City Hall.
Other cities in Oregon have been flirting or experimenting with similar restrictive urban zone policies. When Eugene's restricted dogs on public property in specific areas of the city's downtown, the majority of citations were issued to homeless people, the Register-Guard reported. Medford also proposed an 'exclusion zone' expansion, which would have prohibited people with civil offenses from being in certain areas of the city for 90 days, but it was voted down by the Medford City Council.

A Multnomah County count in February estimated that 4,177 people in the county were homeless; either in an emergency shelter, transitional housing, or unsheltered. That's nearly a 10 percent increase compared to numbers from two years ago.
Oregon's overall homeless population has increased by six percent over the past two years, according to a statewide point-in-time count of homeless folks done in January.