Zimbabwe and Where it All Went Wrong
The people shall govern
Fungai Kumbula | 12/5/2017, 2:29 p.m.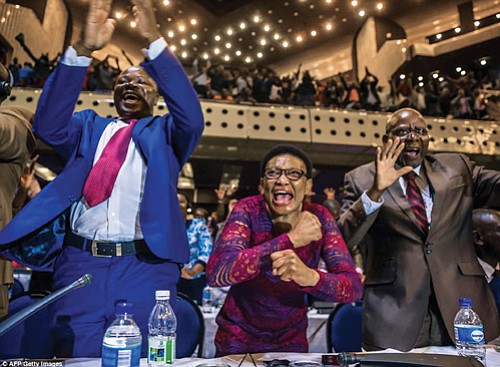 Throughout his 37-year reign, the bedrock of Mugabe's support has always been the security services (army, air force, police and intelligence) so it is instructive that, when the end came, it was the Zimbabwe Defense Forces that played a pivotal role. It all started with a falling out between two camps in the ruling Zanu-pf, one loyal to then vice president Mnangagwa and the other loyal to Grace Mugabe, the former president's wife, each jostling for its preferred candidate to succeed the 93-year-old Mugabe when he finally vacated Zimbabwe State House. As the battle intensified, Mugabe fired Mnangagwa as his deputy in both party and government, which seemed to leave the way for his wife to succeed him.
Mnangagwa fled Zimbabwe saying he feared for his life, and his supporters were purged from both party and government. The ZDF placed Mugabe under house arrest and on public broadcast announcements insisted that this was not a coup.
Mugabe refused to resign, as had been expected once the army presented him with his options. Veterans of the liberation war them called for demonstrations to demand Mugabe resign and Zimbabweans poured into the streets by the hundreds of thousands throughout the country. Still Mugabe remained defiant. Zanu-pf then met and voted to recall Mugabe (effectively withdrawing his mandate as leader) and called for Mnangagwa to be re-instated. Mugabe stayed put. Parliament met in joint session to debate a motion on impeachment and it was only during this debate that Mugabe sent his letter of resignation.
When the Zimbabwe Speaker of Parliament read the letter, the whole Assembly erupted in cheers, cries of joy and dancing, scenes that were repeated once the news filtered into the public gallery, the streets of Harare and, ultimately, the rest of the nation. Mnangagwa returned from exile, was appointed leader of Zanu-pf and ultimately sworn in as President of Zimbabwe
While it is too early to tell whether Mugabe's departure actually heralds the dawn we mistakenly believed had arrived when we gained political independence nearly four decades ago, or it is another false start, this much is already clear: No post-Mugabe leader will ever again be allowed the same leeway to abuse our trust, impoverish our people, make us the laughing stock of the world.
The past heady few weeks have reignited that original fighting national spirit that delivered Zimbabwe in the first place. We owe it to our many supporters across the world, the African community, Africa, ourselves and our children.
Fungai N Kumbula is a former resident of Portland and Zimbabwe. He currently resides in Silver Spring, Md.