Affordability for Now
Investment example of what may be lost in future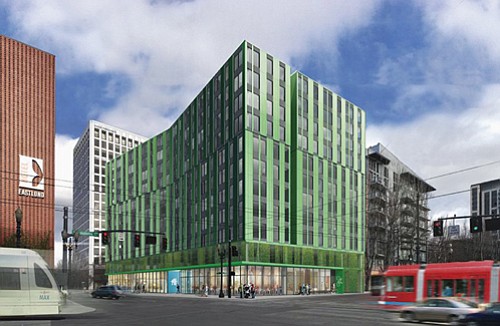 A proposed 240 unit, 12-story mixed-use complex reserved for lower income tenants, the largest affordable housing investment in Portland for decades, is an example of creating needed housing with federal financial supports that may be unavailable in the future because of tax legislation moving through Congress.
The Portland City Council gave the financial green light to build the housing last week in the Lloyd District on a vacant lot known as Block 45 on Northeast Grand Avenue. It approved $5.6 million dollars from the Portland Housing Bureau to support the project which is led by Home Forward, the housing authority for Multnomah County.
Scheduled for completion in 2019, the housing will leverage $56 million in outside public and private resources, including federal tax credits and tax exempt bonds, according to Portland Housing Bureau Communications Manager Martha Calhoon.
"It represents a partnership between the city of Portland and Home Forward and Multnomah County. It's going to, when all said and done, it's going to be the largest affordable housing development [in Portland] in at least a decade...possibly ever," Calhoon told the Portland Observer.
But on Tuesday, the Housing Bureau with local and state leaders, were pointing to the project as an example of affordable housing investment incentives that could be lost in the future because of changes to the federal tax system proposed by Republicans in Congress.
Negotiations between competing House and Senate bills may lead to Oregon losing hundreds of millions of dollars in tax credit revenue in the future that will jeopardize the development of thousands of affordable housing units across the state, according to TIm Collier of Home Forward and Denis Theriault of the Multnomah County Office of Homeless Services.
Multnomah County alone could lose close to $200 million in funding that would affect close to 1,800 housing units in the county, officials said.
"The GOP tax bill is cruel and backwards," said U.S. Rep. Earl Blumenauer, D-Ore. "As Portland and cities across Oregon face housing crises, this bill would bankrupt critical programs that support affordable housing and families who need it most, all while giving massive tax breaks to the rich."
The Block 45 project will provide 220 housing units to folks at 60 percent or below the area median income—that's $44,820 a year—and 20 "deeply affordable" housing units to folks at or below 30 percent of the area median income. The building will also set aside housing units specifically for survivors of domestic violence. It will also provide resident services, community space, and the ground floor will contain a retail store, Calhoon said.
The estimated construction cost of $284,600 per unit did raise some eyebrows when it was approved last week, but the price will be worth it for a building that lasts 100 years and is sustainable, according to City Commissioner Nick Fish who disputed claims from outside contractors who said they can build Block 45 for half the proposed price.
Fish was critical, however, of plans that did not offer permanent supportive housing with social services for homeless folks and added an amendment that orders housing officials to meet once again with a proposal to include supportive housing—the funding for which is yet to be determined.
Located on the western half of a block bound by Northeast Grand Avenue, Hassalo, Sixth Avenue and Holladay, Block 45 has stood vacant since the city bought it back in 1989.
The property is ideal for public transport, within easy reach of the downtown corridor by streetcar and Max line.
"It's going to do a lot of great things," Calhoon said.