Networking for Jobs
County recruits for courthouse, health department builds
12/6/2017, 10:33 a.m.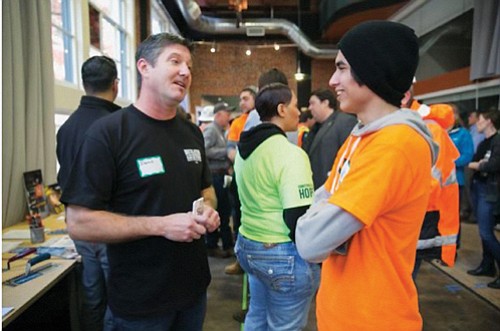 Multnomah County is getting out the word to connect job-seekers with opportunities as the county moves ahead on two construction projects, a new courthouse and health department offices, downtown.
An open house was held earlier this month in a networking event for members of the public to learn about the county's capital construction projects.
It began with introductions from project managers, contractors, subcontractors, pre-apprenticeship and apprenticeship experts each describing a substantial need for many kinds of workers and skill sets: pipefitters, truckers, caulkers, carpenters, masons, laborers, sheet rockers, sheet metal workers, project engineers and 3-D modeling experts, among other vital roles.

"We're looking for people who have experience and those who don't have experience. We're willing to train and teach," one apprenticeship manager said.
The event was co-hosted by Hoffman Construction, JE Dunn Construction and Construction Apprenticeship and Workforce Solutions.
Both the Multnomah County Central Courthouse Project and the Gladys McCoy Health Department Headquarters in Old Town/Chinatown have broken ground and set ambitious goals to provide opportunities for apprentices and for minority, women, service-disabled veterans and emerging small businesses.
"We've put some things in place so we can achieve those goals," said Faye Burch of FM Burch and Associates, an equity and inclusion consultant. "We're taking responsibility for developing these job opportunities and people."
Opportunities exist for people as young as 18 years old, Burch stressed. Prospective candidates can have a high school diploma or a GED and can enter the field through pre-apprenticeship programs like Constructing Hope, Oregon Tradeswomen Inc., Portland Youthbuilders Program or Portland Opportunities Industrialization Center.
Trainings range from six- to 12-week classes. After basic training classes, students work on actual construction projects to discover areas of interest. Some programs have direct entry to union and non-union work.

"Apprenticeship is a pathway for many out of poverty, and an opportunity to be self-sustaining for minorities and women," Burch said. "These are jobs that pay a competitive wage with opportunity for growth."
For more information on Constructing Hope call 503- 281-1234, Oregon TradesWomen call 503-33-.8200, Portland YouthBuilders call 503-286-9350.