Driving Healthcare Equity
First African American to chair Planned Parenthood chapter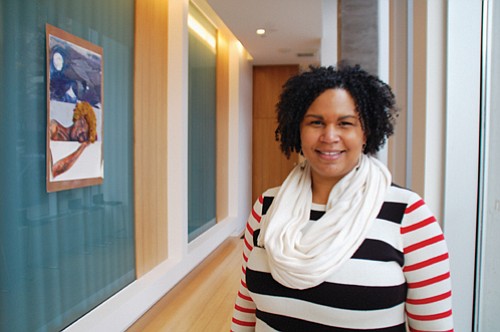 Planned Parenthood Columbia Willamette has a new chair, small business owner and health care practitioner Sita Symonette, the first African American woman to lead the board in its 54 year history.
Symonette, the operator of Black Pearl Acupuncture in downtown Portland, was serving as a board member for the reproductive health center since 2012 and vice chair since 2015, when the board last month elected her to lead the nonprofit's governing panel.
"To step into this role is wonderful," Symonette told the Portland Observer. "I'm really honored and humbled to be able to serve."
Planned Parenthood provides affordable sexual and reproductive health care with services that can range from contraception to screenings for sexually transmitted diseases and breast cancer. Narrowing the disparities in healthcare services among women of color is one of Symonette's top priorities.
"Making sure that people have access to high quality health care, and that includes birth control, is so important for our communities, Right. I mean, in the long run, it keeps the community much more healthy if we can have preventative care," Symonette said.
Jimmy Radosta, Planned Parenthood's local media relations director, said reproductive healthcare disparities are rampant among women of color. Latinas, Native Americans, and African Americans have higher rates of cervical cancer than other groups and African-American women have the highest incidence rate of breast cancer among women younger than 45. Cervical and breast cancer screenings are one of the organization's flagship services and 40 percent of their patients are people of color, Symonette said.
Some of the other services Planned Parenthood provides are emergency contraception, fertility, sexually transmitted infection testing, pregnancy testing and counseling, well checks, sexual education, abortion care (which accounts for 6 percent of their services), and emergency and preventative contraception medicine.
Back in October, the Trump administration rolled out a mandate which gives all employers, not just religious institutions, the option of not covering employees' birth control medicine on the grounds of religious or other beliefs —a move that overturned an Obama era mandate from the Affordable Care Act.
Planned Parenthood advocates said this could cause as many as 360,000 women to lose coverage of birth control medicine in Oregon in 2018, despite Oregon's Reproductive Health Equity Act passed in August. The law will expand Oregonians' access to no-cost reproductive health services like contraception and prohibits discrimination in the provision of those services, but won't fully go into effect until 2019, hence the gap in coverage.
According to a 2011 report from the Guttmacher Institute, 58 percent of women have used contraceptive medicine, at least in part, for health needs other than pregnancy prevention, including endometriosis, fibroids, menstrual regulation, and polycystic ovarian syndrome, which is prevalent among women of color.
Besides the Planned Parenthood headquarters in northeast Portland, the local chapter has clinics in southeast Portland, Beaverton, Bend, Milwaukie-Oak Grove, Salem and Vancouver. 94 percent of its over 72,000 annual patient visits are for preventative sexual health care like birth control, annual exams, screenings for breast and cervical cancer, HIV testing and counseling, and safer sex counseling. 83 percent of Planned Parenthood patients are also low income.