Christmas Dinner and More
12/19/2017, 1:01 p.m.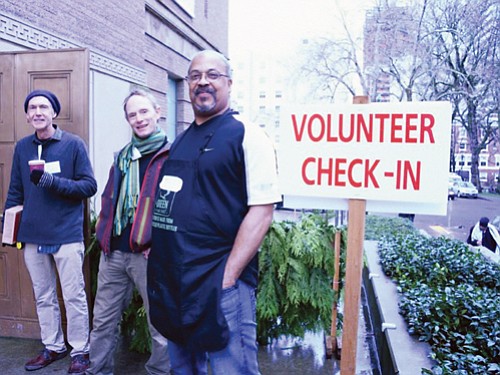 The plans are set for Portland's largest Christmas dinner, free to anyone in need and anyone without family or friends to share the holidays.
Potluck in the Park, in partnership with the Portland Art Museum, will be serving its annual Christmas Dinner at the museum, located at 1119 S.W. Park Ave. But this year they will be serving on Christmas Eve, from 1 p.m. to 4 p.m., on Sunday, Dec. 24 instead of Christmas Day. The meal includes a turkey dinner with all the trimmings, gifts, photos with Santa and live entertainment by some of Portland's best jazz artists. Pet food and kennels are available during the meal. Guests can also make free phone calls to loved ones. Guest Transportation is available for the mobility impaired by calling 503-255-7611.
Potluck in the Park serves free meals to anyone in need each Sunday of the year, rain or shine in downtown Portland. For more information or to make a donation, visit potluckinthepark.org or call 503-255-7611