Christmas at the Grotto
Operating nightly with sights and sounds of the season
12/19/2017, 12:57 p.m.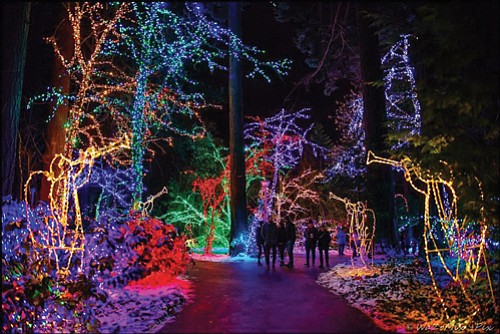 Since 1988, the Grotto's Christmas Festival of Lights has been an ever-growing community tradition that celebrates the true spirit of Christmas.
Operating nightly from 5 p.m. to 9:30 p.m., except on Christmas Day, you will find beautiful lighting displays, heart-warming family entertainment, and magnificent indoor concerts at the base of Rocky Butte just off Northeast Sandy Boulevard and 82nd Avenue, highlighting the sights and sounds of the season.
With over 175 choirs and ensembles from around the region performing in the Chapel of Mary with it cathedral-like acoustics over the course of the event, it is the world's largest Christmas choral festival.

Other family entertainment includes nightly puppet shows, outdoor caroling and a live petting zoo, this year featuring "B.C.," the baby camel. Holiday foods and beverages are also available as is seasonal shopping in the Grotto Gift Shop.
Tickets are $11 general, $10 for seniors and $6 for children 3 to 12 and free for kids 2 and younger. Visitors are encouraged to bring a donation of canned or dry food benefiting Snow-Cap, an East-county food bank.
Parking is free and volunteer parking attendants are present to direct visitors to the most convenient parking. There will be an overflow lot with a free shuttle at St. Rita's Catholic Church at 102nd and Prescott.
For a complete schedule and more information, visit thegrotto.org.