Giving Back for the Holidays
Donated car to help a family in need
Eleanor Fulton | 12/19/2017, 1:07 p.m.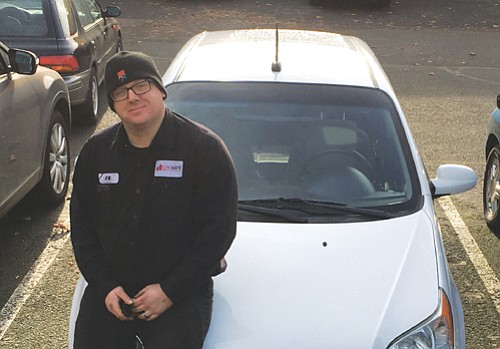 J.R. Watkins is the lead mechanic for Elite OnSite, a new player in the Portland and Vancouver fleet services industry. This past November, he saw the opportunity to combine his professional skills and industry contacts to give back to a family in need.
"We could give away money, we could give away food, but transportation for a family that doesn't have transportation, that's gold."
Julia and Alan Webb, the owners of Elite OnSite, were thrilled at the proposition. They immediately gave Watkins free reign to implement his plan. The goal was to refurbish a used car to mint condition before the holidays, so that a Christmas giveaway could be coordinated.
His plan sprung into action when American Plumbing donated a 2009 Chevy Aveo with a broken head gasket.
The greatest concern was finishing repairs to the car in time.
This project couldn't have been completed without the added donations from Napa Auto Parts and Machine Shop on Southeast Ninth Avenue, and Epic Auto Detailing for fully detailing the car. Dynamic Drywall of Oregon, Squires Electric, 3 Mountains Plumbing, Pinmarx, and All City Printing also contributed.
"I've never had the means to give back to somebody, or the client base, so it was awesome to do that," says Watkins.
Elite OnSite partnered with Union Gospel Mission to find a family that had great need for a vehicle, and that could afford car insurance. Taking these criteria into account, the local charity was able to identify a deserving family.