Jury Rules Shooting Justified
Burglary suspect was shot during police chase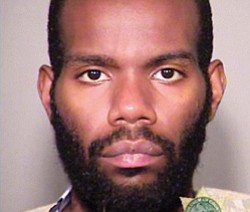 A Multnomah County Grand Jury has determined that a Portland Police Bureau officer was justified when he shot and wounded an unarmed black bank robbery suspect last October.
The grand jury ruled last week that the use of deadly force by Officer Ryan Reagan against Chase Arnae Peeples, 25, was a lawful exercise of self-defense under Oregon law. The shooting happened during a chase after officers responded to a bank robbery at the U.S. Bank located at 32133 N. Lombard St.
Employees provided emergency dispatchers a description of the suspect, a black male in his 20s, wearing a dark baseball hat and dark clothing. The description was broadcast to responding officers.
Reagan, a 19-year-veteran, and his partner officer encountered Peeples, later identified as a resident of Tacoma, a few blocks away. He was shot six times from Reagan's handgun when he did not follow commands to put his hands in the air and instead advanced towards the officers while reaching into his pocket, police testified.
Peeples was transported to a hospital with non-life threatening injuries. No weapons were recovered at the scene.
As part of the internal use of force review process, the Police Bureau will conduct an internal review of the entire incident and the case will go before the Police Review Board, which is comprised of community members, Bureau members and representatives from the Independent Police Review Division.