Gray Whales on the Move
Watching week activities begin Dec. 27
12/20/2017, 9:18 a.m.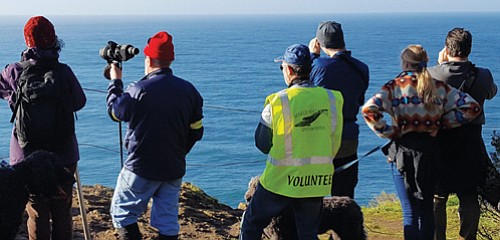 Gray whales are on the move south again this winter, and the Oregon Parks and Recreation Department is celebrating the annual event with Whale Watching Week, Dec. 27-31. Visitors to the Oregon coast will have the opportunity to glimpse some of the estimated 20,000 gray whales traveling south from Alaska to their final destination off the coast of Baja, Mexico.
Volunteers from the Whale Watching Spoken Here program will be stationed at 24 sites along the Oregon coast during the event. From 10 a.m. to 1 p.m. each day, they'll offer whale watching tips and facts about the animals. Each year from December to mid-January, gray whales swim 6,000 miles down the Pacific coast to reach calving lagoons near the Baja peninsula.
Luke Parsons, an OPRD ranger with the Whale Watching Center in Depoe Bay, says one of the goals of the event is to create awareness and compassion for whales and other marine life.
A map of the 24 volunteer whale watch sites can be found on whalespoken.wordpress.com.