Stabilizing Our Community
Legacy bricks raise capital for Allen Temple rebuild
12/26/2017, 4:16 p.m.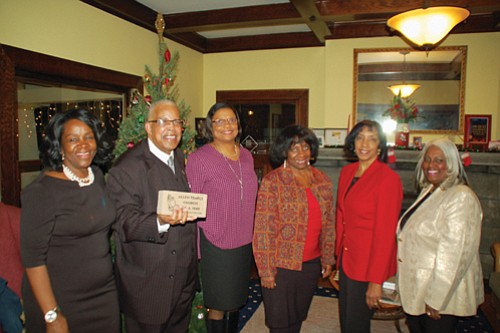 "Stabilizing Our Community: Restore The Historic Allen Temple CME Church" is the theme for a legacy brick campaign to raise donations to help pay for the rebuilding of a 100 year old church with historic ties to the African American community.
Located at Northeast Eighth Avenue and Skidmore Street, Allen Temple sustained major damage from an electrical fire in 2015 and now is ready to start its remodel following deconstruction.
Maxine Fitzpatrick, executive director of Portland Community Reinvestment Initiatives (PCRI), an affordable housing provider, is the chair of the Allen Temple Honorary Capital Campaign Committee. She and other committee volunteers are encouraging individuals, family, friends, community and businesses to continue the fundraising momentum by giving a donation or purchasing a church Legacy Brick.
By supporting the rebuilding, you are helping a church that serves as a community resource. Allen Temple has a homeless assistance program that helps individuals with self-stabilization efforts and provides clothing and other essentials for everyday life. These services include job interview preparation, training programs and housing application assistance. Allen Temple also partners with the Oregon Food Bank to provide meals to struggling community members and provides meeting space for local organizations.
A major grant to support rebuilding Allen Temple's community space was recently made in the form of a Community Livability Grant of $280,000 thanks to Prosper Portland. Donations have also been received from Tom Kelly, Neil Kelly Company, the Portland Observer, the city of Portland, NW Natural, Life Change Church, The Skanner and Décor Cabinets.
An engraved brick for the church construction project is a perfect way to commemorate a special occasion or special person. You can share cost of a brick with family, friends or colleagues. Allen Temple CME Church is 501©3 non-profit organization so donations can be tax deductable.
Donors of $500 will be able to engrave a 4 X 8 brick; a $750 contribution pays for an 8 X 8 brick and a generous contribution of $1,000 will bring you a 12 by 12 brick.
A brick can serve as a lasting memorial for a beloved pet, friend or family member. Whatever the message your brick represents a unique memory to be cherished for years to come
You can purchase a Legacy Brick or give a donation by calling 503-852-1758, email atcmerf16@gmail.com or on visit he church website atcpdx.org.