Surviving Together
Revealing portrait as homeless struggle through winter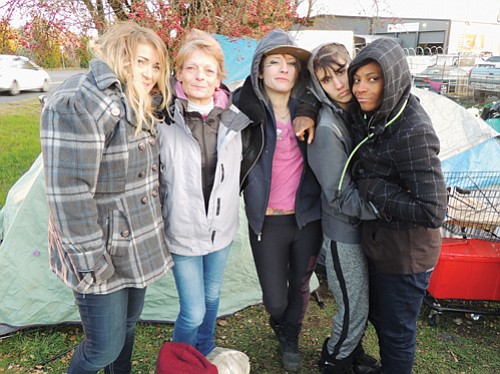 The dozen or so tents and ragtag shelters on a grassy enclave on the side of the road was an all too familiar sight. But finding out who lived there and what they faced was a revealing portrait of the city's homeless epidemic.
The camp was mostly women who were supporting each other in a struggle to stay alive outdoors in winter. One female from the group almost died recently if not for the help of her companions, a shocking experience, but one that is not uncommon on the streets around Portland.
Last year, 80 people died while trying to survive homelessness in Multnomah County, according to a new report just released this month.
The homeless group of women I stopped to talk to said they had been bouncing around various locations for the better part of a year, usually near a freeway off ramp or underneath a freeway overpass. They said they frequently get kicked out of their camping spots by Portland Police or the Oregon Department of Transportation.
Lex, 32, the group's designated "camp mom" for the past year, said the frequent moves are a strain for everyone involved.
"People get suicidal when they move," she said. "People get, you know, violent."
The 80 homeless deaths recorded last year marks the second highest count since Multnomah County started tracking the deaths in 2011. The top three causes of death were accidental, natural, and suicide. Drugs or alcohol contributed to half the deaths. The median age of those who died was 49 and 17 of the total deaths were female.
Brienna Fultz, a Portland woman who has been struggling with homelessness for about three years, told the Portland Observer that this is the first winter spent in a tent. In previous years she stayed in her car or with a friend.
"With as many homeless as there are, it's really hard to find places where we can actually stay," Fultz said.
Last February, there was an estimated 4,000 homeless people in Multnomah County, a 10 percent increase from two years ago. The camp I spoke to represents just a small portion of the over 1,600 homeless people who went without shelter at the time of the count. Nearly 30 percent of them were women.
"It's hard during the winter, you know, to keep moving and trying to figure out 'okay, where are we going to go?" Fultz said.
"It's been cold… everything about it is hard," said another woman, who is called Bug.
As the camp mom, Lex said she has broken up fights, provided spare dry clothes for older or sick members of the group, cooks camp meals when there's enough food to go around, and provides emotional support.
"Most of us are out here because our families have abandoned us and we don't have family […] we're more of a community than most families because we look out for each other. We may not like each other, but we love each other," she said.