Surviving Together
Revealing portrait as homeless struggle through winter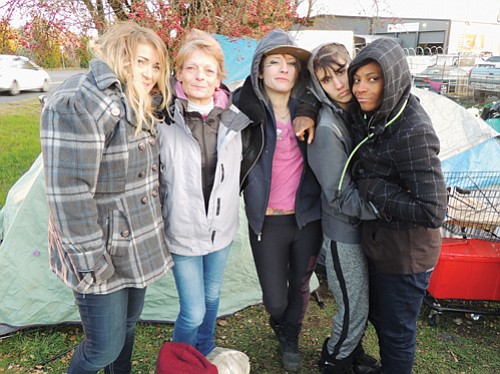 Alta Willman, 54, is thankful for Lex and the other camp members who took notice when she had an infection on her neck that was left untreated for days. Her companions urged her to go to the hospital.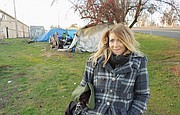 "Had these ladies not cared and loved about me as a human being, 'cause I had gotten bit in the neck by a spider (choking up) had they not pushed me to go, I wouldn't be here. The doctor said if I would've waited another four to six hours, I'd be dead," Willman said.
As the women look after each other, it's a vivid contrast "to the many more people that are looking down on us," Lex said. "We have people drive by everyday honking at us, throwing shit at us, calling us garbage. And heaven forbid one of their family members ever becomes homeless."
"You know, we all have feelings," Lex added. "We don't need people to feel sorry for us. We don't need people to pity us. If they want to help, we need water, garbage [removal], bathrooms. The rest of it we pretty much take care of on our own."
As frigid temperatures hit the Portland area in recent weeks, with ice and snow being the latest ordeal to overcome during the long Christmas holiday weekend, shelters were opening in response.
Responding to the city's homeless emergency, officials continue to step up to reach people in risk. Anyone who is suffering from conditions such as hypothermia or inhaling carbon monoxide from burning fuels is urged to call 211 to get emergency transportation to a warming center or shelter. Those who are interested in donating or volunteering can go also call 211 or visit 211info.org for information or make donations.