Bus tickets phasing out
TriMet expands electronic fare system
12/27/2017, 10:09 a.m.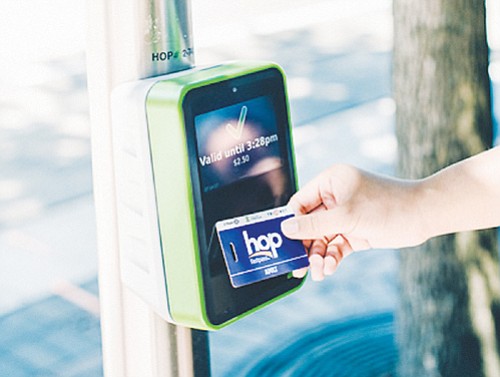 As TriMet expands its electronic fare system, retailers will soon shift to selling Hop Fastpass cards only, no longer selling conventional tickets and passes as soon as Feb. 1, officials announced last week.
The public transit agency's network of retail outlets that sell transit fares has grown from a little more than 100 in 2016 to more than 350 today, officials said. And by July, more than 500 stores and outlets will sell and load a value on Hop cards.
Hop is a regional account-based, electronic fare system. Riders pay their fare on TriMet, C-TRAN and Portland Streetcar by tapping a Hop card or their phone against a reader on board a vehicle or at a rail platform. The system automatically deducts the cost of the ride from the user's balance.
You can purchase a Hop card at one of the participating local retailers or a TriMet ticket office and load money on to it. Riders with Android Pay will be able to buy a virtual card and store it in their mobile wallet – making Hop the first transit fare card in the world available in Android Pay.