Kwanzaa Events Fill Calendar
12/27/2017, 9:59 a.m.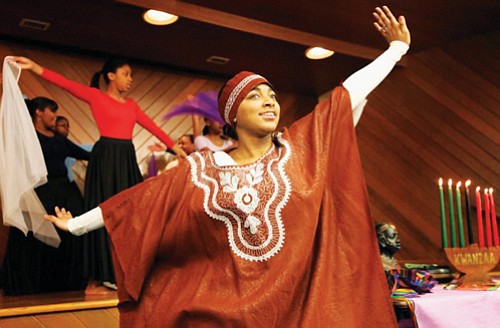 Community events for the week long celebration of Kwanzaa, a celebration honoring African heritage in African-American culture, will continue this week in Portland.
You're invited to engage with neighbors,, family and friends during a candle lighting ceremony on Thursday, Dec. 28 at the Billy Webb Elks Lodge, 6 N. Tillamook St. Scheduled from 5 p.m. to 7:30 p.m., the celebration will include dancing and food and is sponsored by the Diverse and Empowered Employees of Portland.
On Friday, Dec. 29, the Umoja Center, 4951 N.E. 17th Ave., hosts a special Kwanzaa event from 6:30 p.m. to 8:30 p.m. Nkenge Harmon Johnson of the Urban League of Portland will talk on the importance of cultural traditions. There will be music by Yugen Rashad and Paul Knauls Sr. will be honored as special guest.
On Saturday, Dec. 30, the North Portland Library, 512 N. Killingsworth St., will hold a Kwanzaa Family Celebration from 10:30 a.m. to 12 p.m. There will be a storytime, candle lighting with Joyce Harris and family crafts. Light refreshments will be provided.