Honoring Black History at PIFF
Citywide festival puts focus on world diversity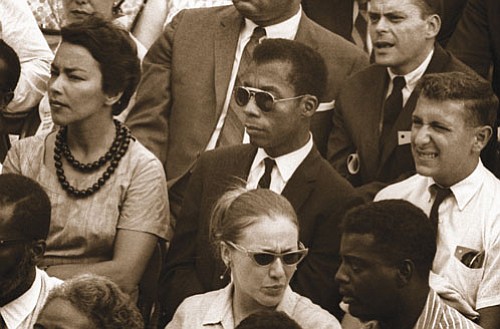 My favorite time of year is upon us! For the rest of this month, the Portland International Film Festival (PIFF) will pack your local theaters – so in addition to honoring Black History, you can sample or gorge on a variety of stories that delightfully outshines the limited fare that Hollywood serves up.

And gorging is exactly what I have in mind. Over 160 films will be on display (98 features and 66 shorts) from over 50 countries, and I am especially excited to see films from cultures I so rarely get to see explored on screen, like Romania, Turkey, Cuba, Kenya, Qasar and Serbia. I revel at the chance to share space from audience members who come to hear films in their native Spanish, French, Tagalog, Farsi, Swahili and Russian. The experience is as enriching as travel itself can be.
"I Am Not Your Negro" opens the festival on two screens on Thursday, Feb. 9 (it opens in broader release on Feb. 17), and I can't think of a year when I have been more excited about the opening night film. We in the United States have neglected the realities of racism and shut out so many voices for so long that we are essentially operating on the level of "alternative facts." Raoul Peck's passion project compiles the words of James Baldwin into a meditation on the history of oppression of black people, with a focus on the assassinations of Medgar Evers, Martin Luther King, Jr., and Malcolm X.
Baldwin's perspective is uncannily sharp and offers such a needed broadening of focus on the truth of black experience. The previews have already moved me to tears, as Peck's artful juxtapositions of images, music, and Baldwin's prescient words expose harsh realities of violence, exploitation, dehumanization, and trauma that characterize race relations in the U.S. It is time we right-sized our assessment of these broken places, and Peck's careful rendering of Baldwin's legacy offers a profound step in the right direction.
To get you started on the rest, I recommend all four of the films I have seen in preview screenings. Here they are in the order I would rank them:
"Kills on Wheels" is a thoroughly engaging Hungarian feature about two disabled teenagers and their danger-filled relationship with a former firefighter, Janos, who is now paralyzed from the waist down. Janos works as a hit man for a Serbian crime boss with a fondness for killer dogs. Zoli, whose spinal problems require him to use a wheelchair, and his roommate Barba, who suffers from cerebral palsy, have a passion for drawing comics, and are spinning a story about their adventures. The result is a comic action film that manages to be quite perceptive about the invisibility that people with disabilities endure. Its three leads offer that rare film about people with disabilities that neither pathologizes nor patronizes; these resourceful men dream, fight, love, and create. You can see it on Feb. 18 and 20.